News
Green chemist and science show performer join lineup at 2014 Science Festival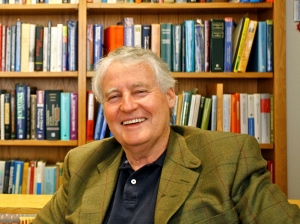 The world's first green chemistry lecturer and a world-class science show performer will join this year's stellar lineup, which includes white shark expert Ryan Johnston and stunt scientist Tom Pringle (aka Dr Bunhead), at the New Zealand International Science Festival, to be held July 5-13 in Dunedin.
Kiwi ex-pat Professor Terence Collins, the Teresa Heinz Professor of Green Chemistry and the director of the Institute for Green Science (IGS) at Carnegie Mellon University in Pittsburgh, will offer festival goers his insights into advancing sustainability.
As the first scientist to teach a course in green chemistry in 1992, Mr Collins, who was born and raised in Auckland, has worked tirelessly to teach new generations of scientists ways to develop chemical products and processes that are compatible with a sustainable future.
In his own research, he also invented the first full-functional small molecule replicas of any of the great families of oxidizing enzymes that nature deploys to run aerobic life. Collins' "TAML Activators" are less than one per cent the size of the enzymes they mimic and even outperform.
Mr Collins will explore how we can think better about using science and technology to advance civilization in the here and now without also dooming the future. His visit is supported by the University of Otago, Division of Sciences.
"Science and technology have given us unprecedented powers to shape the world to our liking. But in the exercise of our new powers, sustainability challenges have arrived to mock our understanding of their real value and to assert that they entail no less than life-or-death sovereignty over all living things."
Also joining this year's festival is Australian science show performer Dr Graham Walker. Presented with the support of Cooke Howlison Toyota, Dr Walker's mind-bending science shows include launching marshmallows out of a vacuum cleaner, making rockets from common household items, and attempting to persuade water to defy gravity.
A research fellow at the Australian National Centre for Public Awareness of Science at the Australian National University and one of just two people worldwide to hold a PhD in science show performance, Dr Walker has been performing his science shows for the past 13 years. His unique brand of high-energy delivery and amazing science shows regularly thrill audiences around the world.
He says his shows will be full of action and interaction.
"I love to share science with people – show them the astonishing things you can do with weird substances like liquid nitrogen, but also make them appreciate that science is something they encounter everyday – you can do extraordinary science with ordinary stuff. The show will be full of fun, audience involvement, stuff people can try at home… and a fair bit they shouldn't!"
Festival director Chris Green is thrilled to have such incredible talent involved this year, showing off the variety of places science can take you.
"From sustainability to catapulting marshmallows, this year's festival is all about leaving boring behind and discovering the magnificence of science."
Professor Collins and Dr Walker will also appear at the Auckland Museum following the festival. www.aucklandmuseum.com

Festival tickets are on sale at www.scifest.org.nz .
The 2014 New Zealand International Science Festival is sponsored by two major funding partners, the University of Otago and the Dunedin City Council.
Event details:
Professor Terry Collins: public talk on Tuesday, July 8, 7.30pm-9pm @ St David Lecture Theatre, Adults $12, Children $7.

Dr Graham Walker: 'The Big Night In' Family Quiz night @ Wall Street Mall with Dr Graham, Saturday, July 5 6.30pm-8pm, FREE.
Dr Graham's Big Science ShowOff @ Wall Street Mall, Sunday, July 6, 12.30pm-1.30pm, free. Professor Terry Collins will give a presentation at Auckland Museum on Monday, July 21, at 7pm, bookings recommended.
Dr Graham Walker will perform his science show 'Dr Graham's Big Science ShowOff ' at the Auckland Museum on Friday, July 11, at 12.30pm, bookings recommended.