News
Children seek changes to road rules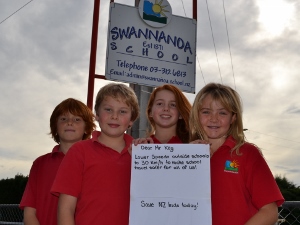 May 19-26 is Road Safety Week. To draw attention to this, Lucinda Rees from NZ School Speeds has spoken to children at her local primary school in Swannanoa, North Canterbury, and has a personal plea from the children for the Prime Minister John Key.
Swannanoa School is on a 100km/h road. The speed limit has recently been reduced to 60 km/h during school start and finish times, and the rest of the time the speed limit reverts back to 100km/h —just metres from where children play cars travel at 100km/h during the school day, Ms Rees says.
Rees says she was surprised at the children's knowledge. "Those who walked or cycled seemed acutely aware of the road dangers that are posed to them on a daily basis. Apart from asking for lower speeds they want more police visibility, colours on the roads of school zones and speed bumps. And they wanted consistent speed reductions outside schools throughout the country.
"There is plenty of rhetoric from the Ministry of Transport about school zone safety practices that are being put in place but these don't target the children who attend schools, instead they merely confuse drivers with inconsistent school zone speed limits.
The World Health Organisation recommends a maximum school zone speed limit of 30km/h. Many European countries have adopted this and their road toll is reducing.
"Our road toll is going up, rather than reducing like the Netherlands and Sweden. Our vehicle fleet quality is improving so the road toll should be going down. It's time for the Ministry of Transport to learn from these countries and adopt road safety practices recommended by the World Health Organisation," Ms Rees says.
"To change the culture, laws need to be forced upon them. In Sweden, in 2013, there was a nine per cent decrease in road fatalities over the previous year. Penalties for driving offenders are tough and enforcement measures are regular and consistent, as are speed limits.
"Start with the basics: introduce a law that has consistent school speed limits and also give cyclists better visibility with a law that states a safe passing distance. Children should be able to cycle safely to school, learn about road safety before they get behind the wheel themselves.
"Our school zones should have speed limits of no more than 70km/h during the school day and when children are coming and going the speed limit should reduce to a maximum of 30km/h," she says.
"Rural children, like those in Swannanoa School, deserve the same safe conditions as urban ones, but as the rules stand even those who take the bus are endangered. "You can't expect drivers to slow for school buses to the mandatory 20km/h speed limit, whether or not they have all the bells and whistles as well as flashing lights, if they are still allowed by law to speed in excess of the recommended 30km/h speed limit through school zones.
"Drivers will soon adopt the habit of slowing near children if they are made to do it."