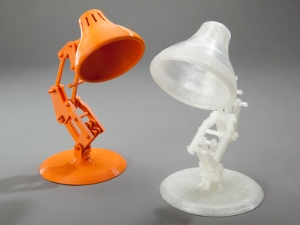 The technology of 3D printing is poised to become an integral part of design and manufacturing across a broad range of industries around the world.
In his State of the Union address on February 13 2013, United States President Barack Obama, described 3D printing as having "the potential to revolutionise the way we make almost everything".
In 2010 the US started introducing 3D technology into schools, and since then Britain, Australia and Japan have followed suit. Now, New Zealand school students are being given the opportunity to get in on the ground floor of this burgeoning technology with the introduction of the award-winning desktop 3D printer Replicator 2, manufactured by US company Makerbot and sold here by Ricoh New Zealand. The company was named as an authorised reseller of the printer in November 2013.
"A lot of our customers in schools, and the education sector in general, were becoming interested in 3D printing so it made sense for us to become involved," marketing manager Murray Clark says. Ricoh chose the Makerbot Replicator 2 both for the quality of the printer itself, and the results it produced, Mr Clark says.
"There are a number of manufacturers making 3D printers, but most fall short in terms of the quality, speed, or relative ease of use that the Makerbot printer offers. We brought in some test models from Chinese manufacturers that were lower in price to make sure we were making the right decision, but they didn't have the build quality, accuracy or smart software, so we thought it was safer to go with a proven product and the global leader in desktop 3D printing.
"With other brands there can also be issues when the user doesn't understand the process, but Makerbot makes it easy. They were the pioneers of 3D technology in 2009." Makerbot has since been bought out by Stratasys, which manufactures 3D printers and materials for prototyping and production.
"The Replicator 2 is Makerbot's fourth-generation 3D printer and the bedrock product in the range. The new fifth-generation MakerBot range is just being launched and offers lots of exciting new features. However, as they are still so new and still being refined via firmware updates to enhance the print quality and speed, we currently recommend the Replicator 2 for schools and other educational institutions. The Replicator 2 is a proven performer, it's easy to use and surprisingly affordable. And compared to most other machines it's leaps ahead," Mr Clark says.
The Replicator 2 has a 410 cubic inch build volume and a 100-micron layer resolution capability. It can print items up to 28.5 cm wide, 15.3 cm long and 15.5 cm high, and it's up to five to 10 times faster than some other 3D printers. Items are printed in PLA, which is a bio-degradable plastic made from corn starch, or PETG, which is similar to the plastic used to make Coca-Cola bottles. MakerBot also supplies the materials.
The other key element of the 3D printer is the software, Mr Clark says. "There are lots of different options available and Ricoh advises schools on what software they can use to create designs, some of which are free, and others have educational pricing available. MakerBot also has its own free software for the Replicator range to prepare design files for printing."
There are now well over 200 MakerBot 3D printers in New Zealand, and 20 to 25 per cent of sales have been to educational organisations at all levels. Mr Clark says it's vitally important that New Zealand's school students learn to use 3D printers as it is becoming a core technology across a wide spectrum of industries and disciplines.
"Today's kids have to be educated in this technology. If they don't do it here, they will get left behind if they go overseas to work." Students are encouraged to start designing and printing things from a model, like geometric shapes and as they become familiar with using the technology they will be inspired to explore more innovative ideas, he says.
"It encourages people to think outside the square. They can come up with new ideas for designing everyday products. In the United States, for example, kids are reinventing products using 3D technology to make them better than the original design."
Jez Scull, the T.I.C Graphics/DVC and Hard Materials Technology at Westlake Girls High School in Auckland says after making its first major investment in Cad/Cam technology, viz a laser cutter, four years ago, the school recently purchased a 3D printer.
"We had felt that the first generation of 3D printers on offer were not substantial enough for the school environment and have waited for the quality and technology to improve and for the cost to fall," Mr Scull says. "School students today are very technologically aware and capable. We strongly believe that alongside the traditional skills that we teach in technology classes, it is important for our students to have an insight into the manufacturing and engineering processes that are used in the modern world and that when we talk about modern technology, we are not just thinking about the latest upgrade to their mobile devices.
"With 3D technology students are able to manufacture products of a professional standard with a high tolerance of accuracy and finish and are not restricted by the limitations of their hand skills. We consider the addition of a 3D printer as another tool to be used alongside traditional techniques and not to replace them." Students are able to do small batches of identical parts for products they are making, Mr Scull says. "Their designs are not limited by their drawing skills when designing products. There are a number of excellent free software packages that can be downloaded that allow students to visualise and design in 3D on the computer. They can even get them as free apps for their mobile devices. "There are vast libraries of designs on the internet and online forums where people share their designs such as 'Makerbot Thingiverse'. Students can download these and modify them to suit their own requirements."
Mr Scull says the school is using the 3D printer in a number of classes. These include Fabric Technology for custom made badges, buckles, buttons and fastenings; parts and details for architectural and product design models in Design and Visual Communication; and making parts and mechanical components for products in Hard Materials.
"Food Technology teachers are also looking at the possibilities of moulds and for food and cake decorations," he says. "We have only just started to explore the possibilities and are considering new ideas all the time. There is a lot of potential for cross-curricular projects with Art and Sculpture, Business Studies and Science, for example."