News
Science competition to celebrate sharks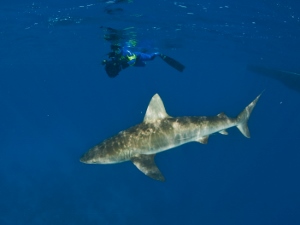 Leave boring behind – a celebration of all things exciting and fun about science – is the message behind this year's New Zealand International Science Festival to be held July 5-13 in Dunedin.
Featuring an incredible line-up of events for young and old, including expos, stunts, street science, debates, interactive demonstrations and inspiring workshops with world leaders in science innovation, event organisers have created a week of fun-filled activities for the whole family.
"It's time to leave boring behind and get to Dunedin this July school holidays," New Zealand International Science Festival director Chris Green says. "There's something for everyone here – from the youngest family member to the oldest – and all our events have been created with fun in mind."
As part of this year's festival, a nationwide competition – 'SharkLab '14: why sharks matter' – has been launched and entries close on June 22, 2014. The competition celebrates the work done by shark researchers, such as one of this year's festival guests, international shark expert and documentary maker Ryan Johnson. SharkLab challenges a new generation of science storytellers to show why it's important to learn about sharks and to tell that story in a creative way.
Says Chris Green: "Whether it's classmates getting together to make a mini documentary about sharks, or families building a shark together, the more creative and exciting the entry the better. "So leave boring behind and get started today. We want you to have fun learning about this amazing creature as part of our festival showcase of discovery, creativity and the really cool places science can take you."
To enter the competition and win cool prizes for you or your school, go to the festival website – www.scifest.org.nz or Facebook page www.facebook.com/nzscifest . Be sure to watch out for the latest news and information about how to #LeaveBoringBehind and get to Dunedin this July.
Photo credit: Fiona Ayerst