News
Royal Visit for Arrowtown School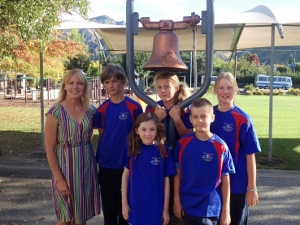 Students from Arrowtown Primary School have been chosen as some of the lucky few who will attend the official royal visit at Queenstown's Shotover Jet on Sunday April 13. In a reference to the school's 150th anniversary, just 15 pupils from all age groups have been chosen to meet the Duke and Duchess of Cambridge, one for each decade the school has been open.
The youngsters will be part of a select group on the Shotover River beach at Arthurs Point to wave at the royal couple as they experience the thrills and exhilaration of a trip on Shotover Jet, renowned as 'The World's Most Exciting Jet Boat Ride'.
The school has been chosen to make up for disappointment back in 2005, when Prince William visited New Zealand in conjunction with a British and Ireland Lions rugby tour.
His programme included a visit to Arrowtown School – then hosting a rugby team from a British school — but bad weather unfortunately made air travel impossible and his visit was cancelled. Mindful of that, the Duke wanted to acknowledge Arrowtown School during his upcoming visit to Queenstown and the lucky pupils have been given special permission for front-row viewing on the day. Two equally lucky year 6 teachers, Janey Winders and Joelle Healey, will accompany the students. "The kids are very excited about the opportunity and are definitely a little nervous. It's a huge honour and privilege for all of us to be able to be at Shotover Jet to see William and Kate, and we're thrilled that Shotover Jet is making it happen," Mrs Winders said.
"They'll be learning about the Royal Family and etiquette and what it means to meet a Duke and Duchess." For Mrs Winders the opportunity is extra special as she will be the second person in her family to meet a member of the Royal Family.
"My mother and her twin sister were 'presented' to the Queen over 60 years ago at Buckingham Palace. I remember hearing about it when I was a young girl and thought it sounded just amazing to meet a Royal. Now I get the opportunity as well and Mum's very excited for me," she said.
Ten-year-old Kate Edmonds wrote a letter to her teacher outlining why she should be one of the chosen 15. "I really like the royal couple, they're just so good together and I follow them in all the magazines and newspapers," Kate said. "I'm really excited and nervous about meeting them. I wanted to be one of the chosen pupils as think I will be a great ambassador for the school and Kiwi kids."
Annabelle Jones, aged 11, said she had been practising her curtsey so she was prepared should she have the opportunity to meet the young royals. "This is a once-in-a-lifetime opportunity and I'm stoked to be there. I just hope if I do get to meet the Duchess I don't clam up and say nothing," she said.
Fellow classmate Sam Clark said his mum was "really happy" when he told her the good news and that he "might shake the Duke's hand" if he got the chance. Ten-year-old Sam said he was also looking forward to being around Shotover Jet's 'Big Reds' and hoped to have a ride on one of the jet boats.
"It's certainly most children's dream to meet a Prince and Princess and they're really happy to be involved, they can't stop talking about it, Mrs Winders said.