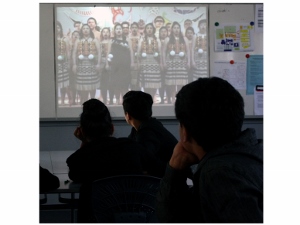 Western Springs College in Auckland, a co-educational state school with approximately 1350, year 9-13 students, has enhanced its e-learning capability with the introduction of the eTV distribution service. The service is run by the Education Television and Video Communications Trust.
The school first became aware of the service when representatives from the school met personnel from the trust at a ULearn conference. Gresham Bradley, general manager of eTV, says the school was interested in finding out how it worked and was given a month's free trial of the system, after which they decided to purchase it.
"We gave a full presentation to the staff with an eTV training session to get them started with it," Mr Bradley says. "It's a very user-friendly system." Director of e-learning at Western Springs College, David Okey, says the eTV system was first launched at the college towards the end of term 4, 2012, and was used in some classes. By the end of term 1, 2013 the whole school had access to it.
"We had been looking at alternative ways of cataloguing and storing videos and DVDs and making them available for our teachers and students and the eTV service met all our requirements," Mr Okey says. "The eTV service gives our teachers the ability to use the web to link on to the eTV site and show television programmes and excerpts from programmes that have been screened, as well as other items that haven't been on TV. It also gives us access to a wide range of video teaching resources."
One of the key advantages is the accessibility of material, he says. "Classrooms weren't equipped with TVs to play videos or DVDs but most of the classrooms have a projector. The teacher just plugs in the laptop to the projector, logs on to eTV and plays the material relevant to the subject being taught. It's relatively straightforward and so much easier than using a TV and video recorder."
Whole programmes, clips from programmes and other digital teaching resources can be shown to illustrate a wide range of topics, he says. "For example, the students can see programmes from the Discovery and National Geographic channels that aren't easily accessible.
"All of the students see eTV material, it is used across the board, but in differing amounts in different areas. For some subjects there are links to items on the intranet on the class website so students can access these in their own time." However, there is a core of around 200 students that use eTV the most, Mr Okey says. "Our Rumaki Maori immersion class is a big user, they use material from Maori TV and other resources that would otherwise be hard to find.
"Students in the science department, social science department and media department are also big eTV users," he says, "and the Learning Centre, which supports students that need extra help, is also making a lot of use of eTV."
Western Springs is now the most active school