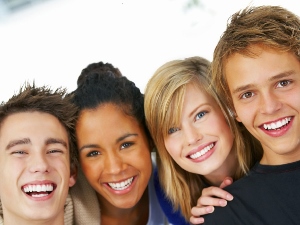 The nature of school libraries has changed so much in recent years that there has been vigorous international debate on whether they would even be needed in the future. However, somehow they seem to be busier places every year and, in spite of huge leaps in digital information storage, increasingly battling to find sufficient space.
What is definitely changing is the definition of a 'school library' and how this works for 21st century education. The international consensus seems to be that learners will always need the tools to interact with information, and the necessary skills to make this possible. Most pundits see the greatest challenge in the changing nature of the learner, the environment they feel comfortable in (ie a digital one) and the rapid movement of current information into a digital environment.
While school libraries are predicted to be still very much needed in the future, they have already changed rapidly with a strong movement away from paper-based information resources by all types of learners. The future library is likely to be a hybrid of a learning common or knowledge common and a virtual learning space. Each school library will be different as it will tailor its space, resources, services and skills to specific needs. Students will need all services and support in one space – this will be the new version of a school library. It may even have a different name. However, because the demands on a library are already markedly different from what they were, their optimum layout and display patterns have changed forever. With rapidly changing needs, flexibility is now a much more significant consideration.
These days, students and staff want to be able to access information from anywhere, at any time. They want to search once and be able to see what is available across physical and electronic resources. They want information delivered to all devices and in all formats – immediately. A modern library management system needs to deliver this. As Martin Neyland, managing director of Access-It Software explains, "This is why there has never been a greater need for sophisticated information management solutions within schools. "Libraries worldwide are not sitting still with the new and emerging technologies – they are demanding more and more from their systems. They want seamless integration between their existing physical library books and teaching resources, their eBooks, audio books, video and other available online content. They want it delivered to iPads and mobile devices, and they want it now!"
This ability to manage the discovery and delivery of information anywhere, anytime – across all devices and in all formats is seen as one of the major reasons for the strong international uptake of Access-It, "New Zealand's leading information management solution for schools." Said Mr Neyland: "Students and staff can carry out one search within Access-It, and automatically retrieve results from their own library and resources, as well as, if they wish, from Wheelers; Overdrive; EBSCO; KHAN Academy; ClickView; DigitalNZ; Maori TV; Google; Parliament; and so on. Simply by scanning a resulting QR code, they can seamlessly download the video, eBook or other digital content directly onto their smartphone or tablet," he said. "With Access-It's 'one search', users can gain access to physical books, eBooks, audiobooks, videos, websites, locally produced electronic documents, and online digital learning objects across multiple online digital content providers, anywhere, anytime, across all devices and in all formats. At the same time, they can develop a life-long love for reading and enquiry. "In no way does any of this marginalise libraries. Libraries and information management go hand-in-hand. But libraries do have to change. Schools need a system that provides accountability for resources they pay good money for. They need to enable discovery of all resources, including digital and online resources. They may need to map readership and downloads to individual students for analysis and reporting, as they do with physical books," Mr Neyland said.
Access-It Library is a New Zealand product, designed specifically for schools, which is now used in over 30 countries across primary, secondary and tertiary sectors. It is the most commonly used library system in our schools, and integrates with the leading student management systems, supports single sign-on, AD/LDAP, SIP2, SQL, cloud-based or locally installed, and all the other industry standard technologies that sophisticated networks are increasingly demanding. As Mr Neyland explains, "Twenty years ago we launched our product branded as 'Access-It' and this vision is a greater reality today. It's all we do – we just focus on making great library software to support schools, because we believe that to run library and information management professionally, you need professional software. This is software that does make a difference." Access-It Software has its head office in Wellington, with offices in Australia, the UK and the Middle East.
Gary R. Dormer F.LINZ Marketing and Export director of Hydestor Manufacturing Ltd, says that every dollar spent must deliver a result over the lifetime of the product or service the school is purchasing. "Customers are asking us to deliver a balance between 'total cost of ownership' – being the benefits of well designed solutions over time – and the pressure to meet low up-front invoice cost." The key to making sure you have the best of both worlds is experience, he said. "Hydestor is fortunate to have been able to help design and supply solutions to more than 400 schools in the last three years. From small add-ons to full libraries, the product selection is driven by the customer's needs. It's this constant and broad range of interaction that gives us the opportunity to stay sharp and deliver results based on the latest ideas and trends we hear about when visiting schools."
Mr Dormer has several other points of advice for those designing or operating a school library: Spine out or face out – drive shelving elevations that allow the right mix and make sure the solution is modular so you can swap and change at any time. Your supplier should be asking you about the details of your collection so the right mix of stock density and specialist display options to entice readership is assured. Seismic stability – your supplier should be able to demonstrate exactly how this will be achieved. Producer statements – these documents are used in general building applications but also increasingly in the installation of 'fittings and fixtures' such as shelving. Your supplier should be able to provide this paperwork to you as your assurance the shelving meets current standards. Rollaway units – these are being used more often as the shelving can be moved aside to allow other activities to take place in the same space. Décor end panels – reclaim the ends of your shelving gondolas and use this space for poster displays, as well as book displays highlighting a particular topic or introducing new books.
Who gets your money? Choose locally owned suppliers and keep your precious dollars in the New Zealand economy. Don't forget your store room and resource rooms – maximise the space and storage capacity with a well designed shelving solution to house journals, files, sports equipment, uniforms etc. Of course, there are several other companies that are well able to supply top quality modern products and very willing to help with advice. Companies such as the international Dexion Commercial, whose wide range of shelving and storage systems have proved ideal for libraries, particularly those needing to maximise their space, mean New Zealand school libraries can obtain products equal in quality to any in the world.