Education
School TV studios increasingly common – and important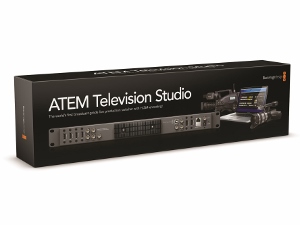 One of the most interesting changes in schools in recent years has been the growing popularity of video production or television broadcasting studios on the campus, at least partly because of the growing popularity of media studies, and the growing availability of broadband to deliver content.
But 2011 research done by ACER – the Australian Council for Educational Research, to find out how teachers are using TV and film content, discovered it was "mainly used in the classroom to provide visual support for a teaching point, to introduce concepts and as a stimulus for discussion. There was a clear consensus that it engages and, in many cases entertains students, and that it has become an integral means of delivering part of the curriculum."
The research detailed many of the ways in which TV played a vital role in the modern learning environment across several areas of teaching, including: providing captioned material for hearing-impaired students; generating ideas for creative writing, debates and role plays; and reaching those learners who do not engage easily with written materials. While the research was carried out on the other side of the Tasman, it is as applicable to New Zealand teachers as it is to their Australian counterparts.
But building and equipping any kind of television studio, whether for purely video production or some form of broadcasting, is not to be undertaken lightly. The sheer cost of the studio construction and the required equipment can be significant. And whenever heavy electric lights, cameras and sound apparatus is involved, safety factors must be treated very seriously. All are essential reasons for consulting specialist companies.
Adena Ltd Adena Ltd specialises in supporting schools in all aspects of the technical side of the performing arts; covering lighting, sound, make-up, drapes and other aspects of production.
Director Steve Reader says the company has steadily become more involved in the growing media studies side of education, such as video equipment for use in school television studios. Adena has been in the business for 25 years, but in the last 10 has specialised on working with schools, gradually broadening the business as demand for its services grew.
"Going back quite a few years, we found that schools generally struggled with the specialised technologies needed for the performing arts. They didn't know where to get technical advice, or even what questions to ask, and a lot of unsafe stuff has resulted. So we set out to provide a one-stop consulting service where schools can obtain advice and guidance for what they want to achieve," he said.
"There are lots of different ways you can approach the problem of providing performance space within a school, but at the end of the day, that space has to be technically functional. For instance, lights must go in the right places or they won't give the best results; and it has to be safe.
"There are many structural factors that need to be considered. You can't just hang up a bit of pipe and dangle 200kg of spotlights from it. With equipment loads generally becoming heavier, that could be quite dangerous. Technical considerations such as that should be designed into a building at the planning stage." And that's not a specialty area for most architects, Mr Reader said.
"Some questions can be quite technically challenging and we have the ability to answer them. By getting it right the first time, schools can save a lot of money."
Adena's advice can be applied to refits as well as new buildings. "You can make any space work but the best time to do it is before the walls are lined, so cables can go inside the walls, out of the way and there's good access to the building's structure for mounting heavy items," Mr Reader said.
A2Z Technologies A2Z Technologies is a broadcast equipment supply company that has specialised in field and studio production for the past 22 years.
"We're a one-stop-shop that supplies Sony, Canon, Panasonic and many other major leading brands in the professional market," said Rex Milton, owner of A2Z.
"We have a keen interest in our customers and long experience in supplying the education sector," added head of sales, David Epstein. "We understand the support schools require with the entire process, from: quoting and budgeting, procuring funds, right through to final delivery and installation.
"Setting up a TV channel has never been easier. With new technology, smaller, better, cheaper cameras available in the market, and services such as Youtube and Vimeo, anybody can produce high-end content. Most computer systems come with the basic software, like Apple's iMove on a Mac, and Windows Movie Maker on PC, enabling a convincing edit, cut and grade," he said.
"If the production requires a finer degree of editing, then there are many options available, such as Adobe Premier Pro or Apple's Final Cut. Most of these programs are available for all computer platforms. YouTube and Vimeo are free subscription, online video hosts. You simply create a channel, upload your finished production, and your video is available for the world to see (or keep it private for a selected group)," said Mr Epstein.
"Equipment is always changing. Clients can be out the door shooting with kits costing only a few hundred dollars, to massive screen productions of many more dollars. Because of this, A2Z specialises in 'making it easy' – our staff have come from the industry and believe you need to use the equipment to know the equipment. A2Z's task is to supply the best products available in the market while keeping everything within budget."
Protel International Technologies Ltd Protel has been in business for more than 25 years and has offices in Auckland and Wellington. From these, Protel services businesses, schools and universities throughout New Zealand and the Pacific Islands.
Protel offers a wide range of streaming software and hardware solutions to schools in addition to all the additional items they may need to complete a television station. "Schools may integrate some of their existing gear or require a totally new solution. Either way we customise to suit," said managing director, Tyrone Payne.
"To get them started, they'll require a camera and microphone, plus suitable hardware to receive the signals into either a computer or custom piece of hardware, which then enables streaming to a suitable server."
Mr Payne says Protel represent a wide range of companies, some of which have specific products for streaming applications.
"For instance, A Digital Rapids product called TouchStream could be of interest to schools. This TouchStream live video encoding and streaming appliance combines Digital Rapids' renowned encoding quality and reliability with the most intuitive human interface – touch – in a fully self-contained, portable form factor.
"With the right software and hardware, anything is possible. That's why Livestream created an ecosystem of tools for producers to take their events to the next level. All Livestream-branded software and hardware is developed in-house. Everything they make works seamlessly with the Livestream platform.
"Protel can provide a live stream solution to any device type i.e., iPad, iPhone, Mac/PC, Roku device (SmartTV etc.)," said Mr Payne. "Embed your live video on your site, Facebook or Twitter, and your followers will have a robust viewing experience no matter where they are watching.
"Protel can offer live camera solutions and accessories such as Sony, Canon, Panasonic, including PCs, Apple MACs for streaming of PowerPoints and the like onto the stream and production switcher, or BlackMagic products which can be combined with LiveStream software etc.," he concluded.