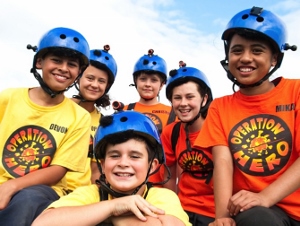 Reliable, safe and fast access to the internet has become crucial to the provision of high-quality education in New Zealand schools.
The need to provide that access has so far prompted 80 per cent of New Zealand's 2500-plus schools to register their interest in joining the new managed fibre network, which is currently being built by the government-owned company, Network for Learning (N4L). The government has committed $211 million to establish the network, which is specially designed for schools, and fund schools' connectivity to it.
The roll-out started in November 2013 at Massey Primary School in Auckland, and by the end of February more than 200 schools had been connected. "N4L is well on the way to the target of connecting 700 by the end of the year," N4L's Julie Landry says. "The network will be capable of connecting more than 800,000 students, teachers and school administrators across the country. That is a significant number of New Zealanders and it's important to get it right. This includes ensuring schools have the right level of support they need to get connected and have an excellent experience when using it," she says.
The fully funded connection packages include internet connectivity, uncapped data, optional content filtering as well as network performance monitoring.
Ms Landry says the feedback from schools already connected has been "overwhelmingly positive", with most reporting a "seamless" transition. "Schools have told us that using N4L has meant they no longer have to worry about whether their classroom sessions will be interrupted by internet bottlenecks, which has made a huge difference to them when their students are using educational programmes online," Ms Landry says
.
In addition to the managed network, N4L is about to launch a new portal, also specifically designed for schools, which the company's education sector leader Carolyn Stuart believes is a world first. Ms Stuart, who was a school principal in several schools over 13 years, says the portal is "very exciting for New Zealand"."We have been testing it on a small group of educators and it will be officially launched at the Festival of Education in Auckland later this month," Ms Stuart says.
The festival, also being held in Wellington and Christchurch, has been timed to coincide with an Education Forum organised by the Minister of Education, Hekia Parata, which will be attended by education ministers from more than 25 countries, she says.
The portal has three specific aspects that will make it beneficial for users. Firstly, it has a sophisticated search function, that will make it much easier for teachers and eventually students to find what they need on the internet. Called Deep Search, it will bring up content that doesn't come up through normal search engines, and which teachers would have difficulty finding, Ms Stuart says.
Secondly, it provides an environment where teachers can collaborate and share resources. "It will enable the building up of learning ideas."
Thirdly, it enables education providers to connect with the whole education community.
"It's a seamless way of finding out how others use different resources. Teachers will be able to comment on resources and let others know how they have benefitted from them, or if they have had any problems with them. It enables teachers to support each other."
Use of the portal will be free to all New Zealand schools.
Connection to the internet also gives schools and tertiary institutions the ability to access content from television and internet channels and educational videos through a unique service called eTV. "eTV captures and distributes programmes from more than 40 channels, including all the free to air channels and a selection of Sky channels," says Gresham Bradley, general manager of the Education Television and Video Communications Trust, which runs eTV.
"Using eTV, teachers and students can watch programmes, download them to store on another computer, and clip and edit the material." eTV currently has over 25,000 programmes in its library and is continually adding to the collection, Mr Bradley says. Well over 6000 recently screened programmes have been added since June 2013. All programmes are catalogued, enabling teachers to easily access the files they want to use.
"eTV has also signed up as a provider for the N4L portal and the portal's Deep Search function will enable users to find content on the site that might otherwise be impossible to access." Whole programmes and excerpts from programmes can be used to enhance teaching in any subject. Mr Bradley cites the Downton Abbey series as an example of how a television show can apply to a range of subjects, such as history, class structure, drama or costume design. "If there is a programme that a teacher is interested in using for their class, they can ask us to record it, if it has been screen in the last 14 days. Teachers can also use eTV to upload their own digital files, both audio and video, or links to other websites. Personalised folders can be created to store the material and every teacher can have a personal ID."
At present, 15 free to air channels are also available for live streaming on eTV, and this will soon be extended to 25, Mr Bradley says. In addition to TV programmes, eTV has a 'curriculum collection', which is a selection of short instructional videos, about five to 10 minutes in length. "These are constantly being drawn from sources all round the world, and enable us to supply fresh, contemporary educational material for our eTV users," Mr Bradley says.
The eTV library also contains material from the New Zealand Film Archive, including science and literary programmes.
Another key advantage is that eTV is available 24 hours a day, and because it's delivered through the cloud, it can be accessed from anywhere. eTV is available to schools and tertiary institutions, although over the last two years, the fastest growth in uptake has come from schools, Mr Bradley says. "From a handful of schools, it has grown to over 200 and new ones are coming on board every week."
In order to use and copy the TV programmes through eTV, schools need to hold a Screenrights licence, Mr Bradley says.
The Australian-based Screenrights organisation issues the licence, which schools can obtain through the School Trustees Association (STA). The licence gives schools the right to copy any programme – news, documentaries, movies and entertainment – for educational purposes. It can be copied in any format – VHS, DVD or hard drive, and there are no limits to the number of copies that can be made.
STA offers a one-stop-shop copyright licensing scheme from July 1 to June 30 each year, or pro rata licences can be arranged. The licence money collected goes to the copyright owners of the material being copied, such as writers and producers. This is done on a non-profit basis, with all the money being distributed after the deduction of overheads costs.
Under the New Zealand Copyright Act, an unlicensed school that copies a programme covered by the licence may be liable for copyright infringement, unless it has obtained permission from the copyright owners.