News
Bringing books to kids in hospital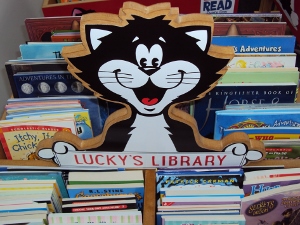 This March Scholastic is delivering 10 new Lucky's Libraries to children's wards in hospitals throughout New Zealand.
Each custom-built library on wheels contains over 120 children's books and is packed with a selection of Scholastic's most popular titles. Lucky's Library has something for everyone with all ages and interests covered. This includes classic New Zealand picture books such as Grandpa's Shed and Grandma McGarvey; beloved characters Clifford the Big Red Dog, Scooby Doo and Spiderman; as well as the most popular fiction series (Goosebumps and Baby Sitters Club), and non-fiction titles.
Scholastic is donating these libraries as part of our mission to encourage young New Zealanders to "Read every day, lead a better life". Scholastic Books in Homes manager Rob Southam has been passionate about this project from its inception. "We wanted to ensure that books were available to Kiwi kids in hospital. We understand, as indeed all parents and adults looking after sick children do, that when there is stress and fear and boredom, when a child is out of his/her comfort zone and away from home and favourite toys and books, that a book provided in hospital will really help to brighten up a child's life."
For the past 10 years, Scholastic has been partnering with New Zealand's two national children's hospitals (Auckland's Starship and KidsFirst) to provide access to books for sick children. Scholastic is thrilled to be able to extend this to hospitals throughout New Zealand with Lucky's Libraries.
The districts receiving Lucky's Libraries for their local hospitals are: Whangarei, Dargaville, Bay of Islands, Kaitaia, Hokianga, Tauranga, Lower Hutt and Christchurch. Scholastic is New Zealand and the world's largest publisher and distributor of children's books creating quality products and services that educate, entertain and motivate children. The company is committed to New Zealand schools, libraries and booksellers and partner to promote reading, as it believes that literacy is the foundation of Kiwi kids achieving and leading successful lives.