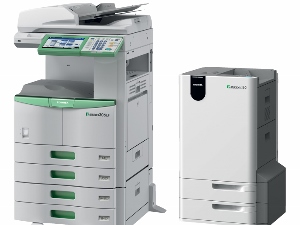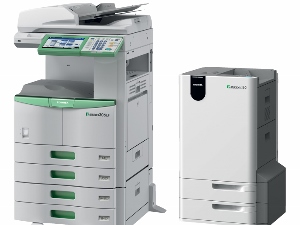 Significant cost savings for schools come with the latest environmentally-friendly MFP breakthrough.
Earlier confident predictions that the advent of the age of desk-tops would soon mean that the average office would soon be paperless, have proved to be very wide of the mark. Many offices and schools are finding they are handling more paper than ever – with the associated considerable costs in paper used, and then simply discarded for recycling or as waste. Those early predictions almost certainly did not take account of the rapid transformation of the photocopier. Earlier versions were extremely limited in what they could do and tended to jam frequently. Printing had to be done separately.
The arrival of multifunctional photocopiers (MFPs) that can also access the internet, be a portal for using software applications, and wirelessly interact with smart phones, laptops and tablets; brought a new dimension. From being a simple tool for making copies of worksheets and other school documents, today's photocopiers have been merged with printers and now allow users to not only copy, but also print, scan and fax documents.
But the considerable costs of purchasing paper remained. In an age of far greater sensitivity to preserving our environment, wasting all that paper seemed increasingly incongruous. Now, a new breakthrough has slashed both that environmental incongruity and operational costs. For most schools, both those factors are likely to be very significant.
New paper-saving device
The technology available to schools has just taken another leap forward with the release in New Zealand of a brand new system, creating the world's first erasable printer/copier. Developed by Toshiba and unveiled in March, the new multi-functional printer (MFP) for the first time allows users to print and erase documents, then re-use the paper.
The world-first eco-technology can reduce paper usage by up to 80 per cent; saving money and helping users reduce their carbon footprint. Toshiba says the Eco MFP slashes carbon dioxide emissions associated with standard machines by up to 50 per cent. The Toshiba system comprises two machines: the e-STUDIO306LP multifunction copier that uses a special erasable toner, and the RD30 erasing device that uses heat to erase what has been printed, allowing paper to be used up to five times. Before applying the heat, the system can scan the output to file, via network or USB drive, for archiving so that its data is not lost. It can erase 30 sheets per minute and then sort through and eliminate any damaged paper from being reused.
"The erasable printing is as distinctive as the MFP itself," says Toshiba's Auckland regional manager, Jim Nolan. "Its blue colour notifies users that its output is erasable and the paper reusable, so they know that they're not only saving money by using less paper for the same document volume, but also protecting the environment. In essence, the new technology bridges the gap between reducing and recycling paper."
Mr Nolan says the system delivers colour scanning and other functions typically associated with large Toshiba multi-function copier-printers.
"These include rapid warm-up, fast first copy times, double-sided printing, and print speeds of up to 30 pages per minute. There's also walk-up printing, simply by plugging in a USB flash drive; and a full 9″ LCD Touch Screen, with large, easy-to-read control buttons." He says the cost is expected to be around $7,000 and that a number of organisations were quick to buy it, sight unseen. "Those that have high volume printing needs – for example in education, law, finance and government – will benefit significantly from reduced costs, while supporting the environment." The Eco system is part of Toshiba's programme to produce eco-friendly products that drastically reduce a company's carbon footprint by using less energy and making efficient use of resources, he said.
There are many benefits to using a multifunction photocopier in place of a range of standalone devices. In particular, the cost savings can be quite significant. The technology involved in MFDs has evolved to the point where the cost per page is much lower than that of stand-alone desktop printers, said Mr Nolan. "And of course, MFDS offer functions of greater quality – whether that be print (via colour control tools); distribution (via scanning to email/network/internet/USB or hard drive); or document output finishing (via punching, stapling, folding and booklet making)."
As well as being cheaper to run overall, MFPs also utilise reporting technology that means schools can track costs and monitor departmental or individual usage. "With Toshiba technology you can set limits for certain staff or students, and you can set rules that recommend another print device be used. These print rules are chosen by the school, based on things like cost-effectiveness, peak-usage trends, or security. A recent trend emerging is card access for MFPs, which can be extended to other 'purchases' around the school – parents can view all transactions and add value online if the school is on-charging.
"With our proactive service support model, we will often know about a potential issue and deal with it before a school is aware of it – since our back-end service system receives information directly from our MFPs. Our goal is to keep our schools operating happily at all times with our MFPs and software," says Mr Nolan. "And we are now introducing an even more advanced system whereby our Help Desk can (with the school's permission) log-in to the management hub and help with any MFD issues."