Property
Pulastic surface means happy people at Finlayson Park School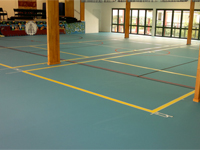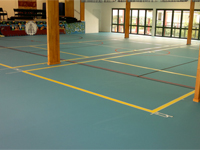 No flooring lasts for ever, however new synthetic sports surfaces have made amazing technological leaps in recent years, and the two situations came together at Auckland's Finlayson Park School last year.
Finlayson Park is a large school of more than 900 primary age students, and the polished chipboard flooring in its assembly hall/gymnasium had been down since the hall was built in 1992. "It was really looking drab and in some areas was deteriorating quite badly, so we needed to do something drastic about it," said principal, Shirley Maihi.
"We'd also made extensions to our hall and the new flooring was of a different colour wood. It meant that it was a good time to put down a new surface over the whole area of floor.
"We did some research to see what was available and thought the Sika Pulastic flooring seemed like very good product. We talked to other schools that had laid it and compared prices with other surfaces. In conjunction with our board, we looked at several options, and decided that the Pulastic seemed to be the quickest to be laid down. It also seemed to be the warmest to sit on," Mrs Maihi said. That fact had considerable relevance as with 930 pupils at Finlayson Park, there are too many to be able to sit them on chairs. "They have to sit on the floor and the Pulastic very quickly warms when the kids sit on it. We didn't want winter assemblies to be jolly cold for them.
"We talked long and hard with several different companies with different products." The school eventually came to focus on Sika Pulastic sports flooring.
"Other schools had it and were really singing the praises of how durable it was and how permanent the lines for the different sports on it were. The price was very competitive; in fact we were really pleased with the price. So, we decided to go with Pulastic."
The decision was made in August last year and Mrs Maihi said the school was soon very impressed with NZ Specialised Coatings, Sika's approved applicator. "The project supervisor and the manager came to see us and explained exactly what was happening. They told us how many days it would actually take, and gave us a really good time-line.
We had to be out of our hall for only one week and a weekend.
"Once the laying process started, it kept to that timeline. There were no hitches; the workmen were there on the day. Every time a stage was laid, it would have to cure for 24 hours, and then they'd be back again.
"There were no delays – just a very professional attitude to the job. It was excellent."
The principal says the new flooring has "made a huge difference. It's a far better surface for our kids to sit on, and it doesn't scuff. Although the children and groups that use it have been told to lift chairs, sometimes they still drag them, but it doesn't have any effect on the product. It's washed once a term, or if something is spilled on it, but it doesn't show any signs of change from the day it was laid more than a year ago. And it has heavy traffic on it. This is a big school and community and church groups use it every night of the working week and every weekend."
The building is used for gymnastics, volleyball, badminton, indoor basket ball and hockey. Has it worked well for those sports? "Absolutely," said Mrs Maihi.
"And we've noticed it's been much more child friendly with our younger students. They can now roll and tumble without risking serious injury."
The Pulastic floor seems to have another bonus that the school had not thought of originally. 'It's a big hall and was always quite 'echoey' but that's been reduced greatly and I believe it's the floor. The Pulastic seems to have helped absorb the noise."
But Shirley Maihi's most effusive praise is in relation to the floor's appearance.
"The colour's just amazing. It's a beautiful blue that brightens our whole hall and makes it so inviting. So many people come in and go 'Wow! This is just fabulous.' It makes the whole hall glow. The coloured lines are beautiful – and still perfect. There's been no wear and tear on them at all.
"The other thing I liked is that after a month, the manager came back to check it and ask if we were happy. It wasn't just lay it, take the money and run. NZ Specialised Coatings has been very good, and once every three months they come back to have a look at the surface to see if it needs any maintenance."
So, overall, is this a happy school principal? "We're all really thrilled with it. We love it. And we're equally happy with the company that laid it."
The flooring is manufactured by Sika AG, a global specialty chemicals company that is a leader in shock absorbing sports surfaces.
"There is a huge range of Pulastic sports floor options available," says Sika NZ's flooring expert Max Tombleson. "The floors can be exactly matched to a school's specific requirements, giving it a surface that is safe, comfortable, durable, and with the sports performance the client requires.
"The performance of a multifunctional sports facility has to satisfy a number of criteria. In particular, the floor properties must be consistent and the ball behaviour must be related to the game (e.g. the correct bounce of a basketball, the correct rolling behaviour of a football). A Pulastic sports floor can be selected to match a client's exact needs," he said.
"A Pulastic sports floor gives you a very attractive, seamless finish. There are no distracting open seams and no loose fits between walls and floor. The colours are completely uniform, and if repairs are ever needed, there will be no major visual deviations. It will look (and perform) exceptionally for many, many years. You can even create your own distinct look – either to match your team or organisation's colours, or simply to help create a fun environment," Mr Tombleson said.