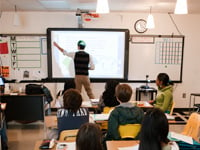 The benefits to both students and teachers of modern audio-visual technology are now well-proven by international research. Such relatively modern innovations such as Interactive Whiteboards that greatly strengthen group learning and sophisticated sound systems that mean children can hear clearly wherever they sit, have proved to be godsends. Teachers no longer have to shout, meaning their work is much more relaxing and damage to their voices is greatly reduced.
But for schools about to embark on expensive new purchases, good research is essential to avoid making a costly mistake. Fortunately, New Zealand is well equipped with companies that can provide first class products and skilled advice.
Sony New Zealand
"From safe environments to mass communication, from video as teaching tools to video production tools, products for Pod Casts, Sony audio-video technology can really enhance your students' learning experience," says Erin Kirk, Sales and Business Development manager, Professional Solutions Division of Sony New Zealand Limited.
"Students spend their time plugged-in, whether its video games, MP3 players, movies or the Internet, so digital media has become their preferred method of communication and expression. Students today are touched by technology at every turn, which impacts every facet of their lives, including how they learn and comprehend. Why not use technology-as-second nature to your schools advantage?
"Sony has many products that can be used in the classroom to engage students from Interactive projectors, Tablets and Laptops, Digital Signage solutions, TVs, touch screen solutions, cameras….. the list is very extensive," she said.
An electronics giant, Sony's product range relevant to education is so vast it was impossible for Erin Kirk to list them.
"All our products can be used in many teaching solutions so I'll just concentrate on Interactive projectors in the classroom. They're designed especially to work in rooms of limited space with the VPL-SW536C enabling large screen projection from very short distances. Our Interactive Projector comes with dual pen interactivity which enables two users to write on the projection surface simultaneously. Selecting the whiteboard mode even allows specific highlights, spotlights, rewrites, replays and the ability to save and export all your valuable work. You'll experience a truly engaging teaching and learning experience."
VideoPro
A specialist in AV sales and integration; VideoPro has installed Epson interactive projectors in numerous New Zealand schools. "The functionality, features and ease of use requiring little or no professional development, plus attractive installation proving to be a winner with primary and secondary schools alike," says Jason Tether, Education Sales. "Teachers are able to create engaging and interactive lessons, pull and display content from several sources (HDMI, USB, PC free slideshows, network and optional wireless connectivity), annotate freely and encourage student participation through active learning. "Thanks to the ultra short throw distance, students have a clear view of both the workspace and teacher without the distraction of cast shadows. And teachers are free from having constant light shining in their eyes. Plus, the WIFI enabled Epson EB-1400Wi and EB-1410Wi allow for projection and interactive function without wires getting in the way," he said.
"The flexibility of Epson's interactive projectors allows schools several options when considering mounting and placement of units. An interactive workspace can be projected onto any hard, flat surface; whether that be a wall, existing whiteboard or table. Schools with smaller budgets who wish to split this valuable resource across a several environments can consider a mobile mounting system.
"A major plus is that schools can make use of existing pen-based whiteboards; reducing the cost to upgrade and better utilisation of space without having dedicated boards.
"Many schools are choosing to invest in interactive technology along-side audio and classroom control. VideoPro recognise that each teaching environment is different and specialise in providing schools with individual solutions based on their needs and budget; offering expert advice, system design, installation and after-sales support," Mr Tether said.
ACTIVboardNZ
National Sales Manager at ACTIVboardNZ, Marnie Etheridge, says CleverTouch Interactive Screens is one of the company's largest ranges of interactive touch displays with sizes ranging from 42″ to 80″.
"The latest touchscreen technology is integrated into the screen, enabling it to be dual or multi touch. The crystal clear resolution and high brightness display means that images are clearly visible," she said.
Another key ACTIVboard product is the Epson Meeting Mate Data Projector. "With our Epson EB-1400Wi Classroom Collaboration Bundle, you can turn your conventional whiteboard or magnetic whiteboard into a 'PC-Free' interactive workspace. It's so simple to use, it won't faze even the most techno-phobic teacher."
"It allows full wireless collaboration with students' BYOD devices while the PC-Free Whiteboard Function facilitates instant annotation without the need for a PC. Simply turn it on and start using the pen. You can also annotate projected images from a range of devices such as tablets, USB memory sticks or a Visualizer. With simultaneous dual pen functionality, teacher and student or student and student can annotate at the same time. It's ideal for secondary schools or staffrooms," Ms Etheridge said.
The Promethean ActivTable incorporates a 46″ diagonal multi-touch LCD screen with safety glass, Windows PD with inbuilt sound, WiFi and USB connectivity. It is also supplied with software encompassing a range of activities designed for primary children.
"This multi-user interactive table allows up to six learners to simultaneously use individual tools, web browsers and resources as they strive towards a common goal. It builds skills such as communication, creativity and critical thinking and is designed for use in the primary classroom."
Ms Etheridge says that in interactive whiteboard technology, the Promethean ActivBoard 500Pro series is the top of the range.
"It can accommodate multiple users engaged with a single task. It combines pen and touch technology, i.e. images can be easily moved, scaled and rotated with finger touch in conjunction with real life 'pen' tasks such as writing and drawing."
She says the ActivBoard 300Pro series allows two students to work simultaneously.
The Promethean Systems come with a choice of short throw or extreme short throw projector and all have a range of mounting options.
Adena Ltd
Adena Ltd specialises in supporting schools in all aspects of the technical side of the performing arts; covering lighting, sound, make-up, drapes and other aspects of productions.
Director Steve Reader says the company has steadily become more involved in the growing media studies side of education, such as video equipment for use in school TV studios. Adena has been in the business for 25 years but in the last 10 has specialised on working with schools, gradually broadening the business as demand for its services grew.
"Going back quite a few years, we found that schools generally struggled with the specialised technologies needed for the performing arts. They didn't know where to get technical advice, or even what questions to ask, and a lot of unsafe stuff has resulted. So we set out to provide a one-stop consulting service where schools can obtain advice and guidance for what they wanted to achieve."
"There are lots of different ways you can approach the problem of providing performance space within a school but at the end of the day, that space has to be technically functional. For instance, lights must go in the right places or they won't give the best results, and it has to be safe."
"A lot of structural factors need to be considered. You can't just hang up a bit of pipe and dangle 200kg of spotlights from it. With equipment loads generally becoming heavier, that could be quite dangerous. Technical considerations such as that should be designed into a building at the planning stage." And that's not a specialty area for most architects, Mr Reader said.
"Some questions can be quite technically challenging and we have the ability to answer them. By getting it right the first time, schools can save a lot of money.
Adena's advice can be applied to refits as well as new buildings. "You can make any space work but the best time to do it is before the walls are lined, so cables can go inside the walls out of the way and there's good access to the building's structure for mounting heavy items."
Once Adena's planning is completed, schools are free to obtain competitive quotes and do due diligence before proceeding further. "While we can supply equipment, our advice is brand-neutral," he said.
Edwards Sound Systems
Edwards Sound is one of New Zealand's largest and oldest sound, lighting & AV suppliers – in business since 1965.
Managing director Jonathan Hardie Neil says the main products and solutions the company offers schools are:
A range of portable sound systems with wireless microphones and music inputs, "great for use anywhere around the school, all in different sizes to cater from one class of students right through to the entire school for a sports day or outdoor event. We import all this equipment directly from the
manufacturer so we can offer the best possible pricing."
Paging systems – "complete school coverage with speakers in every class or just for the fields and outside areas."
Installations for halls, gyms or theatres – "we can work with you to design, build and install a custom sound, lighting and audio visual system to meet your requirements and budgets."
An example of new technology is the Stage Pro 1500 –"ideal for indoor, sports and assembly halls. The Stage Pro 1500 is powerful enough for live music as well as any public address application indoors or outdoors – speech and music. It's portable enough to take anywhere and operates with or without mains power, on stages, sports fields and courts, halls and gymnasiums. It only weighs 13kg and packs a real punch," he said.
"There's a suite of optional add-on modules such as wireless microphone receivers, digital recorders and players, a Bluetooth receiver and wireless repeater. The Stage Pro portable PA gives you the flexibility of a battery operated wireless PA system with high quality sound that can cover hundreds of people at a very competitive price."
Obsolete equipment? Mr Hardie Neil says Edwards offers long term rental and flexible lease options for those concerned about the pace of technological change, equipment becoming obsolete and constant repairs and maintenance issues.
"You can upgrade and replace your wireless microphones, sound equipment and lighting every three to four years from your OPEX budget rather than buying it outright and being stuck with old projectors or obsolete equipment."