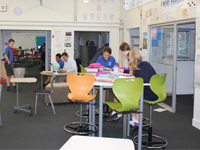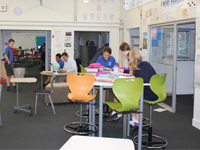 Learning environments have changed drastically in recent years as old-style classrooms give way to modern learning spaces.
The pedagogy that students learn in different ways and in different settings is now well accepted. Intrinsically it follows the furniture should fit those settings. It is a specialised and important component of the modern learning environment.
A major player in this market is Distinction Furniture where Julie Carter is a director. With her business partner, Dorothy Pearce, she formed the company about 15 years ago but both had several years experience with education furniture before that. Auckland-based, Distinction Furniture is the largest provider of education furniture in the region but supplies schools throughout the country. It is the second largest supplier in New Zealand, now employing eight people.
Distinction Furniture is not a manufacturer itself. "We have about 16 companies that manufacture to our specs," says Mrs Carter. "We also tap into existing ranges that those companies may have that would suit the education market."
It is a priority for Distinction that those suppliers are New Zealand companies and are using New Zealand-made products. "That's very important to us as a number of local companies have gone under because of cheap imported furniture. Some competitors still do this but they cannot offer the warranties and back-up service that we're able to do."
Since she began her involvement with school furniture, Julie Carter has seen changes she describes as "dramatic" in the transformation from old-style classroom learning into a modern learning environment, or MLE.
"We put a lot of emphasis on ergonomics now – a big change since the days when all the chairs in the old-style classroom were the sturdy, upright back kind."
"We've outfitted all the new schools built in the last 18 years, except one, and we even supplied some furniture for that. They've all been fun projects because they've been built to suit the ways in which the kids are going to be using them."
Distinction's latest project was as the successful outfitter of the new public/private partnership at west-Auckland's Hobsonville Point. Both a primary and secondary school, it is the first public/private partnership education school in New Zealand, due to open next year. It is totally MLE in concept, encompassing the whole learning environment: layout, lighting, sound, air flow, heating – and furniture.
"Distinction Furniture's philosophy is based on the education theories of The Hermann Brain Model which says that children learn differently to each other. Consequently they need different environments within their classrooms and schools if they are to reach their full potential, just as they would at home.
"So, we'll establish several different learning areas within the classroom environment. The children then choose where they go and do their work," Mrs Carter said."
Furnishings could be High Tables for what she refers to as the 'meercat' kids who need to see what is going on in the classroom so usually are up and down a lot. "Now they can just look up, see what's going on and then go back to task without disturbing their fellow students. Other children do best at group work and sit at tables that can be set up in a variety of configurations, while others work better alone.
"There are wonderful open learning spaces in new schools, but also in well-established schools that have renovated or just turned their classrooms into an MLE environment. That extends to the libraries as well. They have a special place in the school but they're even more special now. There are some fantastic libraries turning up in schools," she said.
"The teachers are just excited by it all because it's actually challenging them in the way they teach. They're having to look at how they're teaching and is it effective and what changes they need to make to their teaching to make sure that a better message is being delivered to the children. They're enjoying that challenge, too.
"An unexpected side effect is that teachers are finding that bad behaviour in class is declining, marks are going up, while children who've been a little out of it socially with other kids – all of a sudden they're actually joining in with the class more, they're participating in group work, they're making new friends – because they're in groups or sitting in places where they feel more comfortable about themselves. The teachers have been amazed. What a fantastic side effect that is to an MLE environment."
This might all sound wonderful but with most schools restricted by tight school budgets, surely it is rather unrealistic for many. However, that is a problem Julie Carter is well aware of.
"Because of how long we've been working with schools, we're fully aware of schools budgets, so we go in and have a look and there is often a lot of furniture they're already using that can be integrated into this MLE environment to keep the costs down. We usually work the most closely with the principal at primary level, and the executive office at a secondary school.
"Then we'll talk to the teachers about how many kids will be involved before working out how many tables and other furnishings will be needed. With school budgets being so tight, it's a not a process where the schools have to do everything at once. Because of how long we've been doing it, we just know what needs to go into them."
Modern learning at Auckland Normal Intermediate
Distinction furniture within a modern learning environment is having a big effect at Auckland Normal Intermediate.
About three years ago the school was re-examining its whole existing pedagogy which included traditional single cell classrooms and old style desks where students sat the entire day.
"We wanted to make sure that the learning environment married up with our new pedagogical approach to teaching," said Deputy Principal Jonathan Hughes. "We obviously wanted a physical environment to match it."
That included introducing 'learning commons' – open style classrooms with breakout rooms where children have a choice where to work. "Part of that was having adaptable furniture, again based on where the students thought they could best sit and best study. It could be high or low tables, or a collaborative action table, and the students could choose throughout the year where they would sit and work on a daily basis," said Mr Hughes.
"We went to Distinction Furniture because we thought it had the most up to date furniture that best symbolised how we'd like our classroom and furniture to look in terms of our new approach. We started by trialling some of the furniture in the old single cell classrooms, and then introduced it into our learning commons as we built them over the last two years. They have a lot more open space and give much more choice for the students.
"It's been a smooth process. One of the positives of working with Distinction was that its people understood where we were heading. They had a good appreciation of our vision and could help plan the layout of the classrooms on a case by case basis.
"At present we have four learning commons classrooms with Distinction furniture in them, and we're growing that to achieve 80 per cent by January next year. This mirrors the real world; no one sits at the same desk all day and does the same thing over and over again."
And has it all been worth it? "We've measured a massive increase in agency by children and students because of having a voice and a choice where to sit and where to work and who to work with. It's made a huge difference to their levels of achievement."
And do students and teachers enjoy their new furniture?
"Oh definitely."
"Through our strategic planning groups, we often measure the impact of this furniture. The biggest changes we've noticed is that the teachers would never want to go back to single cell classrooms and secondly; the students are all fighting to get into these classrooms. They like the choice of having different types of furniture and learning environment."
Two students approached for their opinions definitely back that statement up.
"I really like the range of furniture you can choose from and how you can choose where to sit related to the activity you are doing." – Hana Witty
"I like the shared learning environment and being able to choose your seat every day; it lets me be able to mix with new people, which I love." – Jessica Dale