News
Education NZ supports Storypark – Wellington-based eLearning software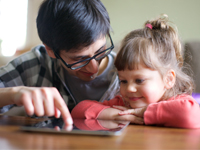 Local Wellington social enterprise Storypark is excited to be one of the few selected recipients of Education New Zealand's International Growth Fund.
Storypark's online platform, www.storypark.com, is currently used by over 4,000 teachers, parents and families globally.
Parents and families come together around a preschooler's learning by recording and sharing photos, videos and comments via a private cloud-based network.
"I think it's been a mixture of the right philosophy and values, and that it's super easy to use, so learning stories come to life in ways that were never possible before" says co-founder Peter Dixon when asked to explain the recent growth in New Zealand and international subscribers.
"Storypark also delivers a caring transition from teacher to teacher and can include specialists if required."
Storypark is also working with some influential friends. CORE Education's Director of Development, Nick Billowes comments, "We're proud to be working with Storypark and are exploring international opportunities with them at the moment.
Storypark is on the edge of global trends in eLearning that impact on early childhood centres and schools.
ePortfolios are an important tool that assist in learning and development outcomes for children."
Education New Zealand's General Manager of Education Business Development Clive Jones, says they are delighted to assist international education providers and businesses to achieve their export growth objectives overseas through the International Education Growth Fund.
"The fund invests in projects and providers that will benefit the New Zealand economy and Storypark is an organisation with a very clear focus on further developing its export markets."
"We wish Storypark the very best in their venture and look forward to hearing of its success."
Storypark will use the funding to focus on deepening their presence in the Northern Hemisphere.
For more information contact Co-founder Peter Dixon – [email protected].