Teaching Resources
ActivSound voice enhancement system proves its worth at Auckland school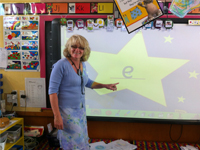 When Dairy Flat School principal Debbie Marshall measured the ambient noise levels in the school classrooms last year, she was in for an unpleasant surprise.
Ambient noise from such sources as an industrial plant, heavy trucks and a nearby airfield meant the school was unlikely to comply with the levels required by its Five-Year Agreements last year, so she made the decision to trial the ActivSound system in a Year One class. Immediately it was evident she had found a solution.
"By lunchtime on the first day of use, the class teacher was calling ActivSound 'a miracle'" said Mrs Marshall. "If there was a child not paying attention, she just said their name and the reaction was instant."
Within a term the school had decided to begin introducing the system in other classrooms. "Now, there's a lot less stopping the entire class to address two or three students. It also drops the noise level in the classroom. I can't exactly tell you why, but it does, and the classroom becomes a quieter working environment."
She said the ActivSound system is also proving itself invaluable for enhancing the learning of children with special needs, such as auditory processing and attention deficit issues. A child is able to pick their name out of all the other classroom noises as the teacher's voice is surrounding them rather than just coming from one direction.
"With one child, the minute the teacher said his name very quietly, he attended. Quite often people think these kids are being naughty but they genuinely don't know how to pick out the important things in what they are hearing. Just having the ActivSound system keeps in their mind what they need to be listening for."
A further advantage of the system is that its introduction into a classroom goes almost unnoticed, says Mrs Marshall. "If you walked into a room you wouldn't notice it until it was turned off. If the teachers are working down on the mat with their small group, they will probably turn it down or off, and then just turn it on if they want someone to attend to them. But I think the magic of it is that it's not intrusive at all – you don't know it's there unless you listen for it."
Debbie Marshall says the school has not come across any major problems since ActivSound was introduced. "The only challenge for the teachers is remembering to charge it, however, they very soon notice the difference in sound quality."
Students also use the ActivSound student microphone to actively participate in classroom activities, she says. "Those who are normally quiet suddenly have a voice."
Mrs Marshall says the school now has ActivSound in eight classrooms, and is hoping to equip the remaining classrooms as soon as funding is available.
"The fact that we're putting them throughout the school has meant quite a big investment in the technology. But for us that's how powerful we think it is and how much of an impact it's having on student learning."