News
School Milk on the Moove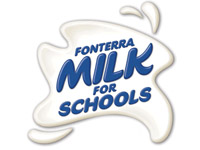 Children in the Bay of Plenty and Gisborne regions are being treated to their first school milk packs this month as Fonterra celebrates its fifth regional launch as part of the nationwide rollout of Fonterra Milk for School
Fonterra Director Global Sustainability and Social Responsibility, Carly Robinson, says the Co-operative is proud to have reached the Bay of Plenty and Gisborne region and is looking forward to taking the programme to the rest of New Zealand's eligible schools.
"We're really excited about this milestone. Getting Fonterra Milk for Schools up and running in the Bay of Plenty and Gisborne is a great achievement, and it's made even better by knowing that the nationwide rollout is making its way up New Zealand.
"Fonterra Milk for Schools is all about making milk available to primary-aged Kiwi kids in years 1 to 6 on a daily basis. It's a big undertaking, but with a fantastic team driving it and the incredible support of the schools and communities, the rollout is running smoothly," she says.
To celebrate the programme launch, 22 kids from 9 schools in the region visited the Parekarangi Trust Farm for a morning milking, before joining a convoy of Fonterra milk tankers, trucks, and farm vehicles making its way through the town.
James Warbrick, Chairman of Parekarangi Trust, says: "The children brought some energy to this morning's milking. Our team loved having them on-farm and really enjoyed hearing how much they are looking forward to their school milk. As milk lovers ourselves, we totally understand."
The kids then joined Rotorua MP Todd McClay and Rotorua District Council Mayor Kevin Winters along with members of the community at Owhata school for a celebratory morning tea, before heading back to school while the grown up members of the group visited Fonterra's Reporoa site.
Fonterra Reporoa Operations Manager, Sam Mikaere, says: "We have had everyone from teachers to farmer shareholders come onsite and it has been great to share the farm-to-factory journey of dairy with them."
Fonterra Milk for Schools will be making its way to Wellington, Manawatu-Wanganui, and Hawkes Bay next with the national roll-out expected to be complete by the end of Term One 2014.