Property
Preventive maintenance vs reactive maintenance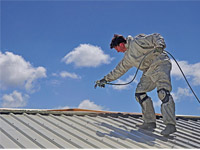 A key benefit of preventive maintenance is to preserve and enhance the life cycle of a property before the passage of time and weather elements wear it out.
It is most effective where the cost of repair and replacement increases over time and when the overall cost of a proactive maintenance program presents a comparatively cheaper option – especially when taking into consideration that this also reduces ancillary intangible costs such as extended downtime and loss of facility use due to major reactive works.
An example of the benefits of ongoing maintenance painting versus ad hoc, based on the level of appearance over six years is shown in the graph.
Other benefits of consistent planned maintenance include:
• Ensuring the vibrancy of the campus environment through buildings that always look new and grounds that are always well presented.
• Protecting key external substrates like timber fascias and windows from breakdown by ensuring all surfaces always have a clean sound paint film.
• Extending the life cycle of buildings and lowering its overall life cycle cost by not having to replace substrates due to breakdown.
• Annual building condition reporting as part of the ongoing maintenance program. This will determine if repairs/improvements can be planned and implemented before or during the next scheduled maintenance. This eliminates re- visits and increased cost.
• Constantly protecting and promoting the school and community image.
The benefits of outsourcing
By outsourcing your maintenance to specialists you have access to
• Technical knowledge that understands every site has its own unique requirements yet has the experience and ability to tailor a maintenance solution to suit your specific needs.
• Specialist and latest equipment with trained operatives using it.
• No capital tied up in equipment and maintenance of depreciating equipment.
• Productivity of operatives measured to industry best practice.
• Outsourcing managing of all OHS functions.
• A broad and deep resource base of skilled, licensed and qualified trade professionals who can offer not only quality service, but also the ability to finish jobs within tight timeframes, even it means working through weekends and public holidays.
• Innovative solutions that are safe, for example, the ability to deal with difficult locations, working at heights and sensitive access areas.
• Advice and consultation that will help you present a professional-looking site that complies with local council legislation, safety and environmental regulation and even promotes sustainability.
Frequently asked questions
Everything looks good. Why should I sign a maintenance contract?
Rather than waiting until a building looks worn and dated, with paintwork that is cracked and peeling, it is more advisable to ensure that over that same period of time, the building constantly looks good. Also, it may cost more to undertake an extensive preparation and possible replacement of substrates prior to repainting to restore a building to its former glory.
On-going maintenance ensures that the building always looks well-presented and modern. In addition, on-going maintenance reduces future replacement costs. Constant inspections and audits as part of the maintenance can identify any areas that can be quickly repaired. For example, fixing broken down paint on windows as part and parcel of a long-term maintenance contract will extend its life span and eliminate costs associated with ongoing replacement.
I have always employed someone to oversee our grounds and facilities. Why should I outsource this?
Outsourcing the grounds and facilities enables you to focus on your core business. By engaging a specialist company to manage your maintenance painting, you have specialists prolonging the life of your buildings and grounds, while you keep an eye on your main role as principal. Thorough annual inspection reports keep you fully informed and highlight any areas requiring attention.
Extensive cost savings can be demonstrated when comparing the cost of employing full time trades people as compared to outsourcing.
Furthermore, a specialist company is able to pass on cost savings due to economies of scale achieved by large volume discounts from its suppliers to its customers. The large labour force enables a specialist company to help you get work done in short time frame.
A single point of contact makes coordinating work easier and more efficient. Throughout the service provision period, you need to speak only to one person, the project manager specially assigned to your campus with regards to your requirements. The project manager who will be available 24/7 and will manage the entire painting team and free you to concentrate on other aspects of your school. Scheduled regular reporting and frequent feedback ensures you are constantly kept abreast of developments and in-the-know