News
Portable swimming pool moves to Hicks Bay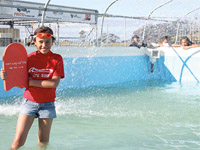 Hundreds of kids and their families in Hicks Bay on the East Coast will no longer go without swimming lessons – or need to travel to swim – thanks to the arrival of the ActivePost portable pool.
The portable pool has been provided by New Zealand Post's ActivePost initiative as part of the Kia Maanu, Kia Ora (Stay Afloat, Stay Alive) campaign to reduce the high number of Maori drownings by teaching young rural-based Maori water survival skills.
The pool was assembled with the help of volunteers at Te Kura Kaupapa Maori (TKKM) o Kawakawa mai Tawhiti and will be used by around 250 kids over the term.
While the lessons will help them make the most of their natural seaside environment, the children will also train to become local lifeguards and participate in waka ama.
"This will make an incredible difference to the lives of these kids and save money for the schools involved. To travel by bus to the nearest pool in Gisborne was going to cost up to $1000 per day, which is a cost no school can afford. The ActivePost portable pool means these kids won't miss out on vital swim and survive lessons," says Water Safety New Zealand Chief Executive Matt Claridge.
"The portability of the ActivePost pool provides a solution to one of the main issues affecting the water safety skills of rural Maori – a lack of access to suitable, cost effective facilities that are appropriate for water safety education. Already we've been told stories about kids using the skills they've learnt in the pool in lifesaving situations out on the water. We're sure the families of Hicks Bay will equally benefit from this opportunity."
Last term the pool was based in Welcome Bay where almost 200 students from years 1-13 made massive improvements across all swim and survive areas, from flotation to swimming 200m, and putting them at levels well above the national average by the end of the term. In the first school term, it was in Cambridge's Ngati Haua Kura Kaupapa.