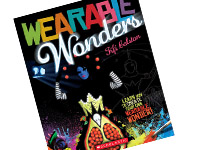 Great new reads
Wearable Wonders
Fifi Colston, Scholastic
What wonderful stories can petals, shells and stones tell? What fantastic forms can fabrics, wire and cardboard take? What out-of-this-world shapes can old cans and drink bottles make?
Mix them together, add a dash of drama and a splash of imagination and learn how to WOW the world with your very own wearable wonder! In this how-to book bursting with tips and tricks, talented author-illustrator Fifi Colston shares her years of experience in the visual and wearable arts.
Featuring an interview with a WOW model and endorsements by Dame Suzie Moncrieff (WOW founder) and Sir Richard Taylor (Weta Workshop).
For ages 10+ years.
Project Huia
Des Hunt, Scholastic
With a flash of yellow wattles glowing against the sheen of her black feathers, the frightened huia whirls clumsily across the rugged gorge…
Fighting a family of thugs and a long-lasting jinx, Logan and Grandpop Jim attempt to unravel the mystery of a huia that vanished long ago.
Des Hunt is a popular author, three times shortlisted for the NZ Post Children's Book Awards, who weaves an adrenaline-pumping adventure with his love of the natural world. For ages 8-12 years.
The Freedom Merchants
Sherryl Jordan, Sholastic
A riveting tale of piracy and slavery set in the early 1600s; a powerful, dramatic story about a little-known white slave trade, which took place at the same time as the black slave trade to America. Twenty-five years ago, young Liam's small fishing village on the Irish Coast was raided and its population decimated by brutal corsair pirates from the Barbary Coast who killed, plundered, and took a number of his people back to Northern Africa as slaves to Muslim masters. Pirate ships continue to prowl the coasts for slaves, but one has been wrecked in Liam's bay, and survivors are struggling ashore …
For ages 12+ years.
Wildlife of New Zealand
Rob Suisted, New Holland
The 5th title in this successful compact-format pictorial series by leading photographer Rob Suisted showcases not only our flagship wildlife species such as kiwi, kauri, kakapo and tuatara, but a unique assembly of fascinating plants and animals that have evolved amid habitats ranging from alpine peaks, open scrub and subtropical forest to wetlands, rocky or sandy shores and the open Pacific.
Well researched and informative captions from natural history writer Matt Turner make this not only a stunning photographic collection, but also a very useful reference.
Modern Art in Action
Maja Pitamic and Jill Laidlaw,
New Holland
This instructional book explores the stories and meanings behind 21 masterpieces of modern art as inspiration for children to create their own exciting and creative art projects. Each of the eight chapters covers a particular category of modern art: Sculpture, Textile, Collage, Illustration, Pop Art, Abstract, Modern Portraiture, even Street art. Each painting or object is presented in a story format, also including a question and answer section, and this is followed by two art activities based on the techniques and visual effects of the piece.
The Song of Albion Trilogy
Stephen Lawhead, New Holland
Book 1: The Paradise War Wolves prowling the streets of Oxford. A Green Man haunting the Highlands… Drawn from the dreaming spires of Oxford to the misty moors and glens of Scotland, Lewis expects little more than a pleasant weekend away. But the road north leads to a mystical crossroads, and he finds himself in a place where two worlds meet, in the time-between- times. The ancient Celts admitted no separation between this world and the Otherworld: the two were delicately interwoven.