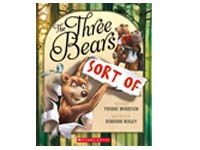 Good reads…
The Three Bears … Sort Of
Yvonne Morrison & Donovan Bixley, Scholastic
Don't bears prefer salmon to porridge? Why are they living in a cottage anyway? And how come they can talk? Fall out of your chair laughing as a cheeky child questions the classic story of The Three Bears.
The Man Whose Mother Was a Pirate
Margaret Mahy
Hachette, RRP $14.99
A brand-new Early Reader edition of this hilarious pirate story from the hugely popular, and award-winning Margaret Mahy. Sam has an ordinary life – but his mother used to be a pirate! One day at breakfast, they decide to go to sea and an amazing adventure begins. Early Readers are stepping stones from picture books to reading books.
A Winter's Day in 1939
Melinda Szymanik
Scholastic
Forced to leave Poland, put to work in labour camps, frozen and starved, Adam and his family doubt that they will survive World War Two. For the Polish refugees, the USSR becomes a prison from which there is seemingly no escape. Thorough research and real-life family history combine in this powerful story.
The Song of the Ship Rat
Ben Brown & Helen Taylor
Scholastic
Unroll the maps to Far Away!
We'll sail before the sun …
Join our weary ship rat as he reminisces of days gone by, his travels around the world and the sights he's seen.
Written in lyrical, evocative language, this gorgeous new title from an acclaimed author/illustrator partnership will delight readers young and old.
The Pendragon Series
Stephen Lawhead
New Holland
Stephen Lawhead is the author of some 14 outstanding fantasy and science fiction novels, including The Dragon King Trilogy
Book 1:Taliesin
A magnificent tale which begins with the tragedy of Atlantis and the arrival in Britain of King Avallach. In this world, Celtic chieftains struggle for survival in the twilight of Rome's power, and one heroic figure towers over all, the Prince Taliesin, in whom is the sum of human greatness. This is a tale of a love that spawns the miracle of Merlin and Arthur and a destiny that is more than a kingdom.
Other books in the series include Merlin, Arthur, Pendragon and Grail.
Loki's Wolves:
The Blackwell Pages
K.L. Armstrong & M.A. Marr
Hachette
Delve deep in to the world of Norse mythology with a new adventure series.
In Viking times, Norse myths predicted the end of the world, an event called Ragnarok that only the gods can stop.
Matt and his classmates Fen and Laurie, like most people in the modern-day town of Blackwell, South Dakota, are direct descendants of the Norse gods Thor or Loki. When the rune readers reveal that Ragnarok is coming and kids—led by Matt—will stand in for the gods in the final battle Matt can hardly believe it. Their lives will never be the same as they race to put together an unstoppable team to prevent the end of the world.
Sinking
David Hill, Scholastic
When a crazy old man leaps out of the bushes at Conrad on his way to swimming training, he gets the fright of his life. And when he discovers the man's granddaughter is that weird horse-riding girl from school, he decides to steer clear of them. But fate has other ideas – and he is drawn into a grim secret.
A gripping read by one of New Zealand's most prominent writers of children's fiction.