News
National landscape architecture award for new school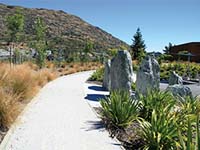 Baxter Design Group has won an Institute of Landscape Architecture (NZILA) Award of Excellence, for its work on the Remarkables Primary School site in Queenstown.
Director Paddy Baxter said he was "thrilled" that the company had been recognised for its contemporary design work on a project that had had its challenges, due to a small, sloping site.
"Like any school project the design was a collaborative effort with effectively three clients – the establishment board of trustees, the teachers' management team, and ultimately the pupils," he said.
"It's a tight site for a school with more than 460 children so we worked with the architects on a masterplan that maintained open playing space but still had smaller spaces within it for group play and outside learning.
"The designs allowed for future expansion of the school and it's establishing well."
Remarkables Primary School principal Debbie Dickson said the school couldn't have hoped for a better design and implementation.
NZILA judges said the school design stood out because it 'paid homage' to the landscape while adding significantly to the environment of learning.