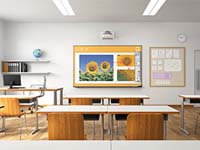 Whiteboard results proven but considerable care needed in purchasing and placement.
Teaching methods these days are now a far cry from those of earlier generations when the teacher was a fixture at the front of the classroom and the thought of scratching another line in chalk on a dusty blackboard could bring shudders of apprehension.
While some viewed the advent of electronic whiteboards with some scepticism and apprehension, there seems little doubt that they are achieving hoped for results in increased pupil achievement. For instance, after a decade of research, Dr. Catherine D. Bruce of Trent University, Ontario – in her published results said: 'While IWBs require a steep learning curve for the teacher, including additional time to develop lessons and learning situations, IWB use can strongly enhance student engagement and learning.'
However, like virtually any piece of complex electronic equipment, a certain amount of expense is involved and considerable care needs to be taken in both purchasing the most suitable equipment and making sure it is situated in a position where it will be at its most effective. That can be quite an involved, but so entrenched are these presentation tools in modern education that in September 2010, European Schoolnet published a guide to their purchase, installation and use. Distilled from the findings of several European and British schools, it is called Making the Most of Your Interactive Whiteboard and gives considerable detail. There is no doubt that IWBs are here to stay.
Take care before purchasing
Schools planning to purchase should first seek advice from at least one of several possible reputable companies.
Sharp Corporation specifically designed its Interactive LED White Boards to offer the most interesting and interactive learning experience for pupils in any classroom, says product marketing manager at Sharp Corporation of New Zealand Ltd, Grace Liang. "As an interactive panel with screen sizes from 60 inches to 80 inches it engages the classroom, and empowers students to demonstrate their ideas, whether it be from the front of the classroom, via Apple TV (mirroring from iPad), or through the newly released Touch Panel Link software (proprietary to Sharp Corporation).
"It also ensures that it's easy to write quickly and easily – using the supplied pen or your finger. Students are used to interacting with touch screens, and IWBs are a great tool for teachers to encourage pupils to work on the board, manipulating content to contribute to lessons," she said, "and using either infrared or optical touch technology means there's no need to continually calibrate the screens.
"Sharp's LCD panel incorporates UV2A (Ultraviolet-induced Multi-domain Vertical Alignment) technology. This ensures the efficient use of light from the screen's backlight and generates exceptionally bright whites, amazingly vivid colours and the deepest blacks. It delivers Full HD resolution. This means that everything from fine text to intricate graphics is stunningly crisp and clear. The full HD display is complemented by an anti-reflective coating. This ensures the screens can be comfortably viewed in brightly lit areas and from a wide angle."
Ms Liang said Sharp's interactive displays are "extremely robust and are highly efficient. The use of LED backlight technology cuts heat emissions, so reducing power consumption in comparison to other systems. And as the displays require very low maintenance, operating costs are kept to a minimum.
"The product includes unlimited licences for the Sharp proprietary software – call Sharp whiteboard software (.sws), and documents can be saved in this format, as well as pdf, jpeg or bmp. This software includes two types of touch functionality – Whiteboard use and Overlay mode, which are Windows based, and highly intuitive.
"The toolbar is easy and simple to understand, offering all the features the education sector has come to enjoy. Lessons can be pre-arranged and edited for years to come, and allowing the user to recall a lesson at the touch of a button. Background references and templates can be stored as jpeg files within the software – all-in-all enabling the user with tools to speed up the education process, and saving valuable lesson time," Ms Liang said.
"These panels save time and school costs. The LED panel is significantly brighter in display than the standard projector, and with a 50,000 hour LED backlight life before the backlight may begin to dim, this high quality product offers a very long life span. The panel includes a three year manufacturers' warranty. On top of this, Sharp Corporation also offers end user support in a range of packages designed to meet your school's needs."
VideoPro, which specialises in AV sales and integration; has installed Epson interactive projectors in numerous New Zealand schools. "The functionality, features and ease of use – requiring little or no professional development – plus attractive installation, are making Epson a winner with primary and secondary schools alike," says Jason Tether, Education Sales at VideoPro.
"Teachers are able to create engaging and interactive lessons, pull content from several sources (HDMI, USB, PC free slideshows, network and optional wireless connectivity), annotate freely and encourage student participation through active learning.
"Thanks to the ultra-short throw distance, students have a clear view of both the workspace and teacher without the distraction of cast shadows. And teachers are free from having constant light shining in their eyes," Mr Tether said.
"The flexibility of Epson's interactive projectors allows schools several options when considering mounting and placement of units.
An interactive workspace can be projected onto any hard, flat surface; whether that be a wall, existing whiteboard or table.
Schools with smaller budgets that wish to split this valuable resource across a several environments, can consider a mobile mounting system.
"A major plus is that schools can make use of existing pen-based whiteboards; reducing the cost to upgrade and better utilisation of space without having dedicated boards." Mr Tether says many schools are choosing to invest in interactive technology alongside audio and classroom control.
"VideoPro recognises that each teaching environment is different and we specialise in providing schools with individual solutions based on their needs and budget; offering expert advice, system design, installation and after-sales support."