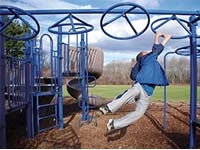 Enticing children outside to play can be difficult in this day and age. Game consoles, computers, mobile phones and the television have more of a pull on children's attention than ever before.
As a result school playgrounds need to provide fun, excitement and a challenge for children to encourage them to play outside. Gone are the days when a set of swings, a slide, seesaws, a climbing frame or two and a field to run around in was all that was needed to keep children fit, active and healthy. Modern playground designs have had to evolve to combine fun with fitness and provide a challenging play space that can be used by children of different ages.
Children use playgrounds in many different ways and develop numerous social skills including turn taking, patience, perseverance and goal setting. Imaginations run wild as playgrounds become knight's or princess' castles, shops or Jedi training schools. Playgrounds also provide opportunities to play with classmates and further develop student's language skills.
Circuit play systems that combine climbing walls and frames with flying foxes, apparatus to hang or swing from, balance walks and fireman's poles, for example, are becoming increasingly popular with New Zealand schools. These playgrounds provide the challenge children need, as well as offering apparatus that works on upper and lower body strength and agility. Space nets, rock walls, ladders and monkey bars offer the challenges and fun many children seek through their play, whilst forts and high platforms provide spaces for children to use their imaginations.
The fitness aspect of school playgrounds is one that has become extremely important over the last few years. The most recent statistics from the Ministry of Health show that one in 12 children in New Zealand, aged between two and 14, is obese and one in five is overweight. The different apparatus available in the school playground can encourage children to be active whilst having fun, and can go some way to providing the prescribed amount of exercise children need on a daily basis.
When considering the right equipment to install in a school playground, it can be worthwhile considering the physical skills that children can develop through the use of different apparatus and include at least one item that will help them develop in each area such as balance, upper or lower body strength, co-ordination and agility.
But it's not just fun and fitness that a playground needs to provide. It also needs to be safe, secure and up to standard. The New Zealand Standard for Playground Equipment and Surfacing (NZS 5828:2004) maintains that the owner or operator of a playground is responsible for ensuring it doesn't contain any hazard that could injure those using it. As a result, inspections and maintenance should be carried out on a regular basis to ensure students using the playground are safe.
The standard states that the owner or manager of the playground should conduct a daily or weekly (routine) and a more in depth monthly (operational) inspection of the playground. An annual inspection, that looks at the effects of vandalism, wear and tear and structural issues, should also be carried out by an independent specialist, preferably one who has at least RoSPA level three certification.
Inspection checklists are available in a handbook produced by Standards New Zealand to assist schools in ensuring their playground comply with the standard. SNZ HB 5828.1:2006 General Playground Equipment and Surfacing Handbook provides clear guidance on safety requirements, maintenance and operational procedures within the standard.
The surface underneath the playground is also an important consideration. Whether using rubber matting, foam, or even bark, it must also comply with NZS 5828:2004. The standard measures the impact absorption of the surface to determine the maximum height from which a child could fall without the risk of serious head injury. Surfaces also need to be tested for slip resistance, fire resistance and durability before products can be advertised as complying with the standard and being suitable for use in school playgrounds. Additionally surfacing must not have sharp edges, trip hazards or use materials that could be toxic.
There is a lot for schools to consider when looking to upgrade, expand or renovate a playground – compliance with safety standards being one of the most important. It is also important to remember that modern playgrounds should offer fitness opportunities that are exciting and challenging for all ages. But most of all a playground should be fun.