Property
Factors to consider when it comes to mowers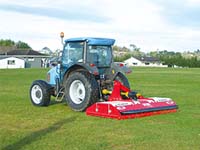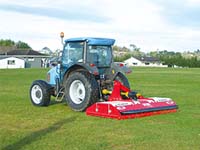 Keeping school grounds looking well groomed is time consuming work. Choosing the best equipment for the job is essential as it can make a big difference in both economic outlay and time.
These days, the standard expected of grassed areas at schools has never been higher. Sports followers are well used to seeing impressive striped fields on their widescreen TVs and most people will partly judge a school on its appearance.
Creating and maintaining grassed areas of that calibre is not easy, particularly when costs must be kept under control. No matter how much knowledge goes into looking after sports fields, good equipment is essential. That could be anything from small to medium sized tractors for larger areas, a mower that is towed behind it, ride-on mowers where the operator sits aboard, or hand-pushed mowers for smaller, more intricate areas. Add to these variants the cost of the equipment, number of accessories available, the weight of the machinery, reliability, servicing follow-up, tightness of turn circle, the type of finish desired – plus storage and security, and what might seem like a simple decision can in fact be quite complicated.
Fieldmaster
Fieldmaster, based just south of Auckland in Pukekohe, has earned a reputation over several decades for supplying quality machinery with sound customer support to back it up. With a recent change in ownership, those at Fieldmaster are enthusiastic about the future. "We've inherited some great product lines and are leaders in the specialised area of municipal mowing equipment. With some outstanding new innovations coming to market, the Fieldmaster range is better than ever," said Rachel Stock, marketing manager for Fieldmaster.
In the 1950s, Fieldmaster was mainly associated with grass cutting equipment, pioneering some of the country's almost indestructible machinery, much of it still operating today. But in more recent years it has offered an extensive range of mowers, ATV accessories and other equipment with a full line up of attachments. Some products can do multiple jobs, saving money by doing two or three different tasks with only a simple change of blades or settings.
"Almost all of Fieldmaster's products are designed and made in New Zealand for tough New Zealand conditions," said Ms Stock. "The equipment is designed and manufactured using the highest quality materials and with well thought out, practical up to date computer modelled 3D design, creating modern, structurally tested and well designed machinery that will stand the test of time. Our full range of equipment is designed to provide ongoing reliability wherever it is needed – including sports field and grounds maintenance."
Ms Stock says the company demands the highest quality in all its operational areas and has a very strict quality control programme that ensures all components meet stringent quality levels. "For instance, if a component is sourced from off-shore, it must still meet the same quality standards of all Fieldmaster's products."
With Fieldmaster currently providing municipal mowers to the likes of Auckland Grammar School, Auckland Rugby League and Fielding Aerodrome, there is already a successful presence of the company's mowers in the municipal environment, she said. "When making a decision on the best outcome for a customer's business and turf, the team at Fieldmaster has years of experience and product development in light mowing equipment through to full scale winged mowers and rollers."
The Fieldmaster commitment to its products and customers does not end with a sale. "Both Fieldmaster and our nationwide dealership network have a finely tuned after sales, spare parts backup programme that ensures minimal downtime and maximum productivity," Ms Stock said.
Fieldmaster stocks a full range of spares for all its machinery. Local agents carry the most popular spare parts – otherwise 99 per cent of all spare parts requirements can be supplied by an overnight courier service around New Zealand.
Allpower Industries
Allpower Industries began in 1977 in Victoria and now sources a wide range of equipment from manufacturers around the world. General manager New Zealand, Warren Trethewey says the company has several brands of mowers that are relevant to schools.
"One is our Stiga premium European ride-on mowers. Stiga is world famous for its ride-on mowers but Stiga has also revolutionized front mowers, garden tractors, lawn mowers, chainsaws, trimmers and other gardening machines.
"Innovation is one of Stiga's characteristics. The brand combines innovative technology and excellent power with minimal impact on the individual and the environment. As Nordic quality demands for garden machinery are high, this Swedish leader provides excellence in performance and design. In all its ride-on mower development work and product ideas, Stiga keeps an eye on ergonomic and environmental problems as well as safety," he said.
"Another Allpower brand is Country Clipper, a premium American zero-turn mower. "All Country Clipper ride-on mowers feature the revolutionary, patented stand-up deck for quick, easy under deck access," Mr Trethewey said.
"The rugged, welded steel deck is reinforced with a triangular front bullnose as well as at other strategic points to make it virtually indestructible. Country Clipper Zero Turn ride-on mowers are built in America's heartland to have the performance, features and quality needed to tackle any residential, estate or professional job. Featuring high quality Hydro-Gear and Parker transaxles, pumps and wheel motors, these mowers ensure you get a tough, dependable zero-turn performance. Powering both residential and commercial mowers are industry-leading Kohler and Kawasaki engines," he said.
A third brand is the Sanli walk-behind mower, manufactured in China. "In the past year alone, Sanli has shipped more than half a million mowers to countries which demand the finest.
"Choose between the Laser Cut, Lawn Beetle, Power Cut or Power Mulch. These nifty mowers have a resilient baked enamel paint finish, and just the right sized grass catcher. Easy adjustment and ball-bearing wheels work with comfort-grip handles and deflector skirts to make a memorable mower. All Sanli mowers have modern Over-Head Valve 4 stroke engines and are excellent value. They are covered by a comprehensive two year warranty."