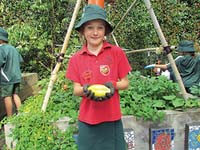 5+ A Day has launched a new teaching resource for primary schools focusing on sustainability, environmental awareness and the importance of eating 5+ A Day.
The resource, 'Growing and Learning with 5+ A Day', is designed to help educators bring to life the concepts of sustainability and teach students how to develop habits and behaviours for a more sustainable and healthy future.
It does this with clearly structured lessons on how to compost and why it's beneficial, creating manageable herb and salad gardens and investigating the importance of eating fresh fruit and vegetables every day to sustain a healthy lifestyle. Each lesson has student resource sheets that can be photocopied and there are various home learning tasks to reinforce the healthy eating concepts at home.
The ideas and key learning points align with the Food and Nutrition for Healthy Confident Kids Guidelines and the important learning areas of Health and Physical Education and Science within the New Zealand Curriculum. There are also specific references to the Key Competencies and Interdependent Concepts.
The new resource was developed after 5+ A Day asked educators what they wanted the material to focus on.
"Teachers wanted strong links to the curriculum, online resources as well as more practical and user-friendly material. The feedback we received from teachers is they wanted to be able to open the resource booklet and run with it," says 5+ A Day General Manager Paula Dudley.
We believe we have achieved this through sustainability focused ideas providing many opportunities for students to become connected and actively involved with learning about 5+ A Day.
One school that will be using the resource is Meadowbank School in Auckland. 5+ A Day's mascot, Fredge, visited the school recently to launch the 'Growing and Learning with 5+ A Day' resource with associate principal Rochelle Manning saying it will support what teachers are doing in class.
5+ A Day has developed teaching resources since 2001 with around 1,000 primary schools throughout New Zealand ordering them annually.
The 'Growing and Learning with 5+ A Day' resource is available for free by registering on the 5+ A Day website. Each school that registers will automatically be eligible to enter this year's 5+ A Day Competition. Competition details will be sent out in Term 2.
The 5+ A Day programme has become well respected since launching in 1994 and is one of the most recognized food/health brands in New Zealand today.
The core activity of the 5+ A Day programme is developing educational resources for educators in early childhood centres, primary and intermediate schools. The resources are curriculum linked for ease of use to promote healthy eating and fruit and vegetables.