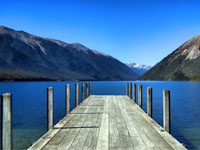 Few countries are as lucky as New Zealand when it comes to finding an attractive location for a school camp, where students and teachers can enjoy themselves taking part in a wide range of outdoor activities and enjoy spectacular scenery.
With any outdoor activity, careful thought has to go into guarding against any injury or worse – particularly in relation to climbing, boating or swimming pursuits, and schools need to plan adequately that sufficient teachers or helpers will be on hand to supervise. And when the weather is not playing ball, the sun is too hot or there is the need for downtime or learning activities, a camp will need indoor space for that as well.
Lists of such camps are available and are usually of a very high standard. But no matter how attractive the countryside, mountain range, beach, lake or river that is chosen, young people are likely to get bored very quickly. And young people are perhaps not as enthusiastic about an all physical activity diet as earlier generations were.
South Island schools have some of the world's most spectacular scenery to choose from and the camps themselves generally offer a very high standard of accommodation.
For those in the North Island, the choice is also wonderful, if perhaps not quite as physically grand. But school planners here will probably always at least consider Rotorua. When it comes to finding a blend of interesting attractions to keep students occupied on a field trip, it is difficult to go past the sheer range the North Island's thermal region can offer.
The thermal attractions such as Whakarewarewa and Waiotapu are well known, as are the trout pool and wildlife parks such as Paradise Valley and Rainbow and Fairy Springs, but Rotorua offers so much more.
There are excellent opportunities to experience Maori history and culture, including Mitai Maori Village, where students will see cultural performances and warriors paddling a waka, and enjoy an authentic hangi meal. The village and Arts and Crafts Institute at Whakarewarewa are other must-sees. Inspiring walks are to be had through a forest full of huge redwoods, and there are float planes and a paddle boat cruise to explore Lake Rotorua. Not far away are Lake Rotoiti, the beautiful Blue and Green lakes and the secluded Lake Okataina. Also within the vicinity is the Buried Village at Tarawera and the historical features it involves, including the fabled, lost Pink and White Terraces.
The fact that Rotorua is well set up for such tourists help make it attractive for school groups as well. The agricultural displays at the Agrodome and other venues, a gondola ride to the top of Mt Ngongataha and a luge ride down, white water rafting and thermal bathing are others in a vast array of entertainment possibilities. There are several locations for large banquets and other gatherings, the new Convention Centre in the Government Gardens being the major one.
Accommodation ranges from back packer standard up to 5-star hotels. A number of venues are aimed especially at schools. Lakes Ranch is a 120 acre property offering numerous activities, including an adrenaline raising 'swoop' or abseiling down a 20 metre site. There are tennis courts and horse treks available for all degrees of ability. Students can play team games on the full-sized rugby field or in a large riding arena in wet weather. There are three swimming pools, one of them thermally-heated. Students can try their hand at archery, slug guns or badminton, relax on a giant hammock, kayak on one of the lakes and explore the ranch while navigating the challenging orienteering course. With more than 200 beds and tenting and camper van sites, Lakes Ranch is able to cater for almost any group.
Schools are able to organise their visits through the Rotorua Education Network (REN), a first-of-its-kind tourism collective solely dedicated to education. The network was formed by four tourism partners in 1997 to provide quality out of classroom experiences for students nationwide. The group has now grown to 13 members; including 11 Rotorua based tourism businesses encompassing cultural, geothermal, natural environment, and adventure elements. All members are Qualmark rated and members of the Rotorua Sustainable Tourism Charter.
From the South Island's exquisite Queenstown to the beauty of the Bay of Island, when it comes to school camps, we are spoiled for choice. As Fred Dagg might have put it : "We just don't know how lucky we are!"
Lake Rotoiti Holiday Park is a small friendly haven situated on a delightful lakefront location in a rural setting only 20 minutes from Rotorua and 35 minutes from Tauranga/Mt Maunganui.
It is popular with boaties and fishermen because of its jetty, boat ramp and marina berths. Thermal hot pools are just a quick boat ride away.
"This tranquil lake is also great for water skiing, sailing and other water sports," said owner Michelle Gray. "Lake Rotoiti Holiday Park is also the rafting base for the world renowned Kaituna River. The 7.5 metre waterfall (Okere Falls) makes this a grade 5 for white water sports or you may prefer the beautiful scenic walk.
"Our two bunkrooms make this an awesome set-up for large groups or school camps," Michelle said. "We have two dormitories each sleeping 10-13, along with a large
kitchen/dining and an outdoor covered BBQ deck area." The camp as a whole sleeps up to 100 and caters for large or small groups. Guests supply their own bedding while the bathroom consists of communal camp facilities.
Activities to keep young people occupied include: white water rafting, trout fishing, kayaking, boating, track walking, hot pools, world famous Okere Falls, water skiing/wakeboarding, et skiing, swimming, local Okere store/café, Hamurana Golf course, trout hatchery, fishing charters and/or tuition. A large range of team building activities can be arranged on-site.
Facilities include: a large lakeside recreation hall – TV, Table tennis, piano, covered BBQ area/facilities, kayaks and dinghy, water slide, playground and trampoline, guest laundry, communal kitchen.