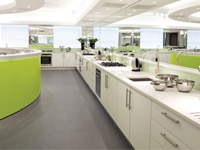 Few establishments would warrant the wide variety of flooring surfaces required by schools. From comfortably carpeted areas designed for relaxation to wet tiled areas surrounding swimming pools, schools need a particular surface for nearly every usage.
Areas for food preparation require a surface where sticky spills can be easily wiped up, science labs need flooring that are resistant to harsh chemicals, sick bays and toilets must be resistant to any sort of germ infestation, libraries require quiet while music rooms and classrooms need excellent acoustics. Gymnasium or similar areas that are used for sports will need to be tolerant to vigorous activity and occasional heavy falls. Nearly all floor surfaces, especially corridors, will have to be hard wearing.
As far as possible in an environment where sensible speeds and careful attention are not always adopted, they also need to be safe. In the July 2011 – June 2012 financial year ACC accepted the following claims for work-related injuries, lodged by teachers (NZ wide) by injury cause:
• Tripping or Stumbling 573
• Slipping, Skidding on foot 568
• Loss of balance/Personal Control 523
Any injury to a staff member or pupil can have serious long term consequences, both in monetary terms and the seriousness of the injury. When it comes to flooring, it is critical that experts be consulted and the ideal surface installed.
In New Zealand, Polyflor supplies retailers with its range of safety vinyl and sports flooring manufactured by its parent company in the UK.
"Our safety floors are particularly suitable for school uses such as science blocks, toilets, bathrooms, and corridors," said marketing co-ordinator (NZ), Melissa Allington. She says the different types of safety flooring have improved considerably in recent years and are now much easier to clean than they once were, resulting in significant cost savings for a school.
"Our Polysafe vinyls feature an exclusive polyurethane reinforcement (PUR) applied to the product for superior cleaning benefits. Due to the incorporation of aggregates through the vinyl, the slip resistance is guaranteed for the life of the product.
"And a big plus these days is that safety floors are a lot more environmentally friendly. All our Polysafe vinyls are 100 per cent recyclable through Recofloor – our own Vinyl Take-Back Scheme. We take back clean uplifted vinyl and vinyl off-cuts from the installation process."
Through Recofloor, vinyl flooring off-cuts from the installation process are recycled back into new flooring. Uplifted or end of life material is downcycled into products such as road cones and road barrier bases.
"Recofloor is unique to us as a company in New Zealand," Miss Allington said.
A number of New Zealand schools have found Polyflor has provided ideal solutions for their requirements. At Kaipara College, Facilities manager Sue Glasson has used Polysafe Vogue Ultravinyl in many parts of the school.
"We have the product in several of our new toilet and shower areas. The new science block was completed in November 2010 and features Polysafe Vogue Ultra in all six laboratories, storage and prep areas. I required a non-slip flooring that was chemical resistant, attractive and easy to clean. The glitter flecks and depth of colour complement the paint palette, plywood panels and stainless," she said.
Mrs Glasson said the need to have non-slip flooring in wet areas can be a headache for the cleaning staff. "What we did in our science labs works well. The hard flooring has not affected the acoustic performance of the classrooms because we have used wall coverings and clever ceiling panel designs. I'm very happy with the appearance of the floor after two and half years."
David Keys is the contracted project manager for Kerikeri High School and has supervised three major projects at the school in the last four years. With a roll of about 1400, Kerikeri High is one of the biggest schools in Northland and in 2010 built a new block which contains three science laboratories and science prep areas.
When new flooring was required for them about two years ago, Mr Keys and the school architect discussed what would be the most suitable surface to install and settled on Polyflor Mosaic flooring throughout the lab area, both for its reliability and appearance.
"I'd had Polyflor flooring in several projects at other schools and I'd been pretty happy with the quality of the product. At Kerikeri High, we've had absolutely no problems with it. It's doing what it's required to do in the science labs and the area where chemicals are prepared for lessons," he said.
"I've read that Polyflor Mosaic has the highest resistance of any flooring to all sorts of potential contaminants. Everyone likes the appearance of it and it's worked out very well. The 15 year warranty is another big plus."
When tiled or concrete floors get wet they can become exceedingly slippery and dangerous, causing slips, falls and numerous injuries. Andy Andersons Industrial Services has the answer to make floors safer wet than dry with its Grip Guard non-slip treatment. The company says Grip Guard is safe for both internal and external use and is ideal for residential and commercial properties. There are no fumes and no curing time required, so areas can be walked upon immediately after treatment.
"On concrete paths and stairs, on tiled areas such as foyers and changing rooms, or around the pool, Grip Guard can make your wet floors safer," said John Black, owner of Andy Andersons Industrial Services. "Grip Guard is not a coating or an etch and so does not change the structure of the surface it treats. And because it is a treatment and not a coating, it cannot wear off. It delivers increased slip resistance at an affordable price which is ideal for schools," he said.