News
Noise and poor acoustics put voices at risk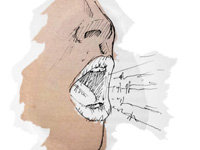 Thousands of teachers are at risk of developing serious voice problems because of high noise levels and poor acoustics in New Zealand classrooms. A survey of nearly 3,000 teachers suggests they have higher rates of voice-use issues than people in other vocations.
Two studies, led by University of Auckland speech experts Sylvia Leao and Professor Suzanne Purdy, have revealed more than a third of teachers have suffered problems with their voices at some point.
Almost 24 per cent say they have had problems in the past 12 months, with primary teachers and women aged 51 to 60 years most at risk. About 28 per cent of teachers have stayed away from work for up to three days because of vocal problems, and a further 10 per cent have taken extended sick leave.
"The time off not only impacts on the quality of children's education but it is a financial burden on the country," said Professor Purdy, head of speech science at Auckland University. "People like singers and auctioneers are tuned into the fact that they have to take care of their voices, but most teachers don't give it much thought, even though it is their main communication tool for doing their work.
"Excessively noisy classrooms and poor acoustics, especially in newer buildings that have thinner walls, are the main reasons for people developing issues and becoming ill. Many senior teachers who are extremely good at their jobs are also retiring early because of this," she said
The new research, unveiled by Sylvia Leao at the recent World Voice Congress in Egypt, also showed only 22 per cent of teachers with vocal problems sought treatment. Approximately 86,000 teachers work in New Zealand.