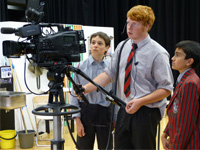 Music and performing arts students at Scots College in Wellington are hitting the right note with the opening of their new Creative and Performing Arts Centre.
The $14 million complex, which was officially opened in March 2012, boasts three floors of purpose-built teaching, rehearsal and performance spaces. Subjects including drama, music, dance, art, graphics, robotics, 3D design and printing, as well as non-curriculum subjects such as film production and animation are taught within the complex using the latest, industry standard technology.
Existing music and performing arts facilities at the school were becoming unfit for purpose and in 2009 it was decided that they needed to be upgraded, says Graeme Yule, headmaster of Scots College.
"We started with a plan simply to replace our two music rooms and our drama room, and then realised we had industry experts right on our doorstep in the form of Weta Digital and Park Road Post Production," he says. "The idea for the Creative and Performing Arts Centre grew from consultation with their experts."
Each floor of the building has a specific purpose. The sub-basement level is designed for prop design and make-up, while the lower ground floor provides space for drama and the school's pipe band. The two drama classrooms are divided by a sliding door that can be opened to create a small performance theatre and the sprung wooden floors also make this area suitable for dance classes and performance.
The ground floor contains the middle school offices, as well as the music rooms with two large soundproofed classrooms, three rehearsal spaces and a large recording studio and editing suite which, says Yule, contains some of the best equipment available in Australasia. "The recording studio is second to none," he says. "The whole centre is networked so we can mic up the kids and record them just about anywhere in the centre."
Art, graphics, robotics and 3D design and printing classrooms are housed on the top floor.
Consultation with John Neill of Park Road Post Production and Rob Paris of equipment supplier Protel led to a desire to align the technology in the Creative and Performing Arts Centre with that used in the film industry and offer similar facilities to the big film production companies.
"That synergy of equipment means that students gain experience with the right sort of equipment and software if they want to go on to work in the industry," says Rob Paris of Protel. "Scots College has treated the project very seriously."
So seriously that an industry standard Avid System 5 Fusion Digital Console makes up the centrepiece of the surround control room with Genelec 8260A 3-way Smart Active Monitors (SAM) provided for reference listening.
All recording and editing rooms are fitted-out with industry standard tools for the creation of audio or video media using Avid Pro Tools|HD, Media Composer and Sibelius and housed using Argosy studio furniture.
An area for the control of multi-camera video production is also housed within the Control Room. Sony's PMW-350K high-definition cameras can be located in a number of areas within the building while being remote controlled, switched, recorded and live-streamed. Vinten studio pedestals and tripod kits make it easy to take these cameras out on location when not used in the studio environment.
A Kv2 Audio house PA looks after live-sound duties in the 500 seat auditorium/hall with additional active and passive speakers (also Kv2 Audio), providing live sound reinforcement for drama areas and floor monitors for performers. An extensive microphone collection for live and recording purposes is dominated by various Rode models, complimented by other standards from Sennheiser, Shure, AKG and Violet Design.
While many schools around the country have TV production, radio and film studios and even recording studios, it is very much at a student level and NCEA focused, says Paris. "Scots College wanted to go beyond that – to teach non-curriculum courses, and also make the space a world-class complex for external clients to take advantage of. "The centre can be repurposed for any creative pursuit," he says. "The community could use it for recording and editing films for the 48-hour Film Festival; or it could be used for international conferences – for sound engineers for example. The calibre of equipment is right up there with the film and broadcast industry."
And this is exactly what the school intends. "This building will be utilised by our students and staff during school hours, however from the outset it has been designed as an asset for the whole community," says Yule. "We have plans to launch our Creative Night School to the public, with local and visiting experts coming in to lead courses and give lectures on a whole myriad of subjects and specialist areas. Equally, the facilities are available for hire by individuals and community groups as well."
Since its launch last year, the response to the Creative and Performing Arts Centre has been extremely positive, says Yule. "The number of students involved in performing arts has increased significantly over the last year and people have been pretty amazed and impressed with the centre."
The latest string in the bow for the centre has been the development of the Creative and Performing Arts School which launched in February 2013. Industry luminaries Miranda Harcourt and Nathalie Boltt are teaching drama classes, while 3D modelling and sculpture for character design classes are being taught by Weta Workshop designers. Dance and music classes are also available as part of the school and are being taught by leading dancers and musicians.
It's exciting and hugely rewarding to know we really have created opportunities for great things to happen," says Yule.
And it's likely Scots College students will be hitting the right notes for some time to come.