Property
Choose the best ride-on mowers and tractors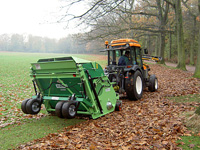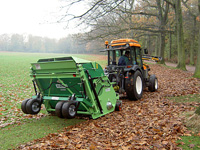 These days, the standards expected of school sport fields and grassed areas visible to the public, has never been higher. Sports followers are now well used to seeing pristine fields on their widescreen TVs, the work of highly-skilled ground-staff and very likely patterned in carefully manicured stripes.
To create anything like it aesthetically is not easy, particularly when costs must be kept under control, yet the playing surface must also be as safe as possible for the inevitable multiple impacts of children with growing bones. No matter how much knowledge goes into looking after sports fields, good ride-on equipment is essential. Fortunately New Zealand schools have several reputable companies to choose from.
Fieldmaster
Fieldmaster, based just south of Auckland in Pukekohe, is a privately owned business that has earned a reputation over several decades for supplying quality machinery with sound customer support to back it up.
In the 1950s, Fieldmaster was mainly associated with grass cutting equipment, pioneering some of the country's almost indestructible machinery, much of it still operating today. But in more recent years Fieldmaster has supplied an extensive range of mowers, ATV accessories and other equipment with a full line up of attachments. Some products can do multiple jobs, saving money by doing two or three different tasks with only a simple change of blades or settings.
"Almost all of Fieldmaster's products are designed and made in New Zealand for tough New Zealand conditions," says marketing manager Patrick Murray. "The equipment is manufactured using the highest quality materials and with well thought out, practical up to date computer modelled 3D design, creating modern, structurally tested and well designed machinery that will stand the test of time. Our full range of equipment is designed to provide ongoing reliability wherever it is needed – including sports fields and grounds maintenance."
Mr Murray says the company demands the highest of quality in all its operational areas and has a very strict quality control programme that ensures all components meet stringent quality levels. "For instance, if a component is sourced from off-shore, it must still meet the same quality standards of all Fieldmaster's products."
The Fieldmaster commitment to its products and customers does not end with a sale. "Both Fieldmaster and our nationwide dealership network have a finely tuned after sales, spare parts backup programme that ensures minimal downtime and maximum productivity," Mr Murray said.
Fieldmaster stocks a full range of spares for all its machinery. Local agents carry the most popular spare parts – otherwise 99 per cent of all spare parts requirements can be supplied by an overnight courier service around New Zealand, he said.
Trimax Mowing Systems
Trimax Mowing Systems has been working with schools for more than 30 years gaining insights into the application of grounds maintenance. Through the company's dedicated R&D programme and constant customer connection, it has developed a mower that specifically re-purposes the schools smaller 25-50hp tractors. "Through clever innovation and state of the art materials, they can still offer Trimax's robust design but with less weight," said Trimax sales representative Darren Davies. "This now allows compact tractors to mow larger areas faster. The Trimax named 'Striker' still provides an exceptional finish and low maintenance requirements common to Trimax but at a lower capital cost."
Mr Davies describes the Trimax Striker as "the perfect solution for schools where they need to save money, yet cannot compromise on cut quality or efficiency. The groundsmen love it as the double rollers not only produce an incredible stripe pattern and increased safety, but it provides an effective rolling function after the games to help smooth out the fields. They also love the fact that they can now maximise the use of their machinery, helping to ease operational efficiencies."
Davies quotes Tauranga Boys College head groundsman, Chris Harris as saying: "The school has had Trimax mowers for over 10 years now. They produce a pristine finish every time on both the cricket pitch and the rugby field. We're completely happy with them and we wouldn't look at another mower."
Power Turf New Zealand
Power Turf New Zealand has one of the largest ranges of natural and artificial surface maintenance equipment in the country. "We import and distribute TYM Tractors from Korea, which offer our customers a great quality of product while maintaining value for money," said managing director, John Woodham.
The company's Peruzzo collection mowers are manufactured in Italy and provide the user with a simple collection system towed behind a tractor, Mr Woodham said. "The added benefit of the Peruzzo is that with a simple blade insertion, it can scarify the grass areas which improves the quality of the grass by removing thatch. Another collection mower used predominantly by contractors is the Gianni Ferrari zero turn mower. This is an excellent value for money product that can move in the very tightest of areas."
With some schools moving to artificial surfaces, Power Turf NZ can also provide equipment to maintain the artificial surfaces at a high level of safety and improve longevity, said Mr Woodham. "As most artificial surfaces use rubber infill, there is a need to ensure that the surfaces are regularly maintained to remove unwanted debris and to insure an even playing surface, as the infill can move about during play. Redexim (Verti-Top) is the world's leading natural turf aerating equipment manufacturer and now has market leading artificial surface equipment to provide the highest level of maintenance for artificial surfaces."
Husqvarna
Husqvarna has dealerships throughout New Zealand and offers a huge range of tractors and mowers for grounds maintenance.
When it comes to mowers, customer development manager Anthony Barry says the company has many models that feature articulated steering, together with hydrostatic transmission, helping to provide a smoother operation so the job can be done with greater precision.
"With our Combi cutting decks there are two cutting techniques to choose from – rear ejection or BioClip. Taller, wilder grass and coarser types of grass should be cut with a rear ejection cutting deck that can manage large amounts of grass. The BioClip method is especially suitable for well-maintained lawns that are mowed often. The finely cut clippings return to the lawn as fertiliser," Mr Barry said.
He says zero-turn mowers are engineered especially for the effective mowing of large areas. "They are generally robust, compact and provide high-speed ride-on performance."
"In general, the larger and more open the grass areas, the more important it is that the machine has a generous cutting width. If the area has lots of obstructions like trees and bushes, it's more important that the cutting width is small enough for the tractor to move through the tightest passages. Within the Husqvarna garden tractor range we offer tractors with cutting widths from 30″ through to 52″, and our Zero turn range have deck choices from 30" up to 72.
"A Husqvarna tractor means the user can achieve first-class results by using the cutting method best suited to their requirements. Purchasers should choose a model with an integrated collector when they want to collect clippings and achieve tidy results. For quick and efficient cutting, choose a side-ejecting tractor. Switch to the BioClip (mulching) mode when grounds need fertilisation."
Anthony Barry says a tractor with hydrostatic transmission is much easier to operate than a tractor with manual transmission where drivers have to stop the tractor each time they want to change gears. "The hydrostatic transmission offers stepless adjustment while driving," he said.
"There are two different hydrostatic transmission solutions. For maximum comfort, choose a tractor with pedal-operated transmission, where speed and direction are controlled by separate pedals for forward and reverse. The other option is the lever-operated hydrostat. The lever is placed on the fender and is easy to access from the driver's seat.
"Our tractors can be equipped with a wide range of accessories for increased year round versatility – for instance a collector for leaves, or spreader for lawn preparation, a front-mounted brush, for clearing driveways and paths and a trailer to make the work easier."