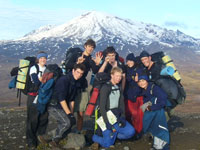 Seven New Zealand secondary schools have won a share of $50,000 in Genesis Energy scholarships to the Sir Edmund Hillary Outdoor Pursuits Centre of New Zealand after winning the 2012 Student vs Wild competition.
Students nationwide were invited to make a video to explain how they would survive for one week stranded in their school grounds without food, shelter or assistance from the outside world. The videos were uploaded to the Student vs Wild website and the winners decided by public voting and a judging panel from OPC and sponsor, Genesis Energy.
The winning teams, announced in early November, have won a scholarship that covers a five-day adventure programme for 10 students at an OPC base -Tongariro or Great Barrier Island.
The winning schools are:
Huanui College, Northland
Kaipara College, Auckland Region
Katikati College, Bay of Plenty
Matamata College, Waikato
New Plymouth Boys' High School, Taranaki
Opunake High School, Taranaki
Fiordland College, Southland
The videos the winning students put together were a tribute to young Kiwi ingenuity," said Genesis Energy chief executive Albert Brantley. "We're delighted to be able to reward the best of the entries with the chance to attend OPC where they will be stretched both mentally and physically and at the same time learn some real survival skills."
OPC chief executive officer Graham Seatter said "Even though OPC strives to keep its costs down, with support from sponsors such as Genesis Energy, we know it can be tough for some communities to fundraise to cover the remaining costs. This initiative gives 70 Kiwi teenagers the chance to challenge themselves in the great outdoors. For many of these students, the OPC programme will be a life-changing experience."
It has been another busy year for the Outdoor Pursuits Centre with several events held involving schools. One example was in September when, with support from Youthtown, OPC chose the winners of the 2012 Get2Go Challenge regional and now 96 of the most adventurous young teens in New Zealand are preparing to face off in the outdoor challenge of their lives. Twelve mixed-gender school teams will compete for the national title in the Get2Go Challenge final from December 10 to 14, at the OPC base on Great Barrier Island. Each won their regional Get2Go competition.
The competition, now in its seventh year, is New Zealand's premier adventure sport event for this age group. Teams of eight, get stuck into a range of fun but testing challenges. The Amazing Race-style competition is the equivalent to the Hillary Challenge for senior secondary students. They need no special outdoor experience to enter – just a give-it-a-go attitude.
OPC is all about giving young New Zealanders an introduction to the many cool activities that are on our doorsteps."
OPC's school programmes endeavor to help develop tomorrow's leaders by building spirit, a strong sense of group unity, camaraderie and socials skills in unspoiled settings.