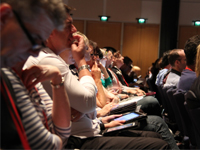 Judging by the tweets from those attending, Core Education's ULearn 12 will go down as another great success.
It was held at Auckland's Sky City Events Centre in mid October, and with more than 300 workshops to select from, and world renowned Keynote and Spotlight speakers to see, hear, and work with, plus an impressive trade exhibition, it was hard to see how it could fail.
ULearn 12 is the biggest teaching and learning conference in Auckland in 2012 this year with more than 1500 attending and over 100 left out as the venue reached capacity, even though some sessions were held at nearby hotels and Senior College. Another 200 attended, mainly manning trade exhibits.
The whole event was wirelessly powered by the best bandwidth and network speeds achievable in the region at present and delegates were encouraged to bring their own laptops, tablets and smart phones, meaning that workshops became very much hands-on and new technology was everywhere.
There were four Keynote speakers. The first was Dr Jason Ohler, a professor emeritus, speaker, writer, teacher, cyber researcher and digital humanist, whose address was entitled: New Media, New Kids – New Literacies, New Citizens. Ohler's latest book, Digital Community, Digital Citizen, explores the issues of helping students blend their digital and non-digital lives into one integrated approach for living. His theme for the conference was: …effective, creative and wise use of technology…to bring together technology, community and learning in ways that work."
Khoa Do is a film director, screenwriter and teacher, spoke on the theme of: In Great Obstacles Lie Great Opportunities. Khoa Do had arrived in Australia as a refugee on a tiny fishing boat full of people and went on to become the 2005 Young Australian of the Year. In 2004, he was the youngest film director in Australian history to be nominated for an AFI Award for Best Director and has received many awards for his work in the community and with young people in particular.
He has had extensive experience working with the disadvantaged in Australia and believes that everyone on a team is extraordinarily gifted, and a teacher's goal is to help others realise their true potential.
Third of the principal speakers was Kevin Honeycutt on the subject of: Collaborate, Innovate and Educate. Honeycutt grew up in poverty and attended school in many cities across the United States. In 1991 he received the Making IT Happen Award, which is an internationally recognised awards program for educators and leaders in the field of educational technology integration in K-12 schools. For the past four years he has hosted a creative learning site called ArtSnacks where he shares 150+ 1—minute drawing videos that support standards curriculum. Honeycutt believes that one of his most important roles is to help create a vision of what the future holds for learners and to help move schools in the most appropriate new directions.
Fourth and last of the Keynote speakers was Australian, Glen Capelli and there were seven Spotlight speakers. The conference dinner was booked out and the popular Auckland group, the Kingpins played through the evening with the support of Leza Corban.
In winding up the conference, Core Education's development director, Nick Bellowes, invited delegates to take what they had heard back to their schools. "Take the experiences back to your colleagues, take the best of these things that you've picked up back to your classroom. Try and change something. Reflect on it, feed it back to your colleagues. Try and do something that's going to be different for the kids in your classroom."
Conference organiser, Gwenny Davis, was very pleased with the way ULearn 12 had turned out. "The keynotes were absolutely brilliant and the feedback's been very good. People have been very positive. Several have said it's been the best ever in terms of getting good contacts from delegates."
Principal sponsors were: HP New Zealand, Sitech Systems, Allied Telesis, FX Networks, Microsoft NZ, Toshiba, and the National Library.