News
Research shows parents want more information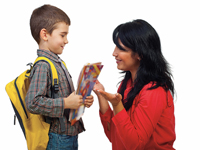 New research shows that parents, families and whānau want independent and comprehensive information about their child's school, and regular communication from the school, says the Ministry of Education.
Key findings from the research, undertaken on behalf of the Ministry by Colmar Brunton are that parents, family and whānau want:
Independently sourced and comprehensive information that gives an objective and balanced view of their child's school, including the quality of teaching and the school culture, and responsiveness to multicultural or bicultural and special education needs in particular.
Regular communication between home and school that provides an assessment of whether their child is progressing and achieving, and alerts parents and teachers if there are any well-being issues.
Being able to assess and compare their child's learning progress and achievement with other students at the same level. This gives them confidence as they know what questions to ask about how teachers, students and parents, families and whānau can work together to address any issues.
The research also finds that parents, families and whānau who have been involved in frequent communication value it highly. Ministry Deputy Secretary, Student Achievement, Rowena Phair says the research is useful as it helps give schools insight into the expectations of parents.
"The qualitative research gives us a real feel for what parents need and expect in terms of information and on-going communication. At the same time, it's helped shape how we further develop and refine our approach to Public Achievement Information (PAI)," she said.
Two new jobs for Christchurch work
The Education Ministry has created two jobs to cope with the Christchurch schools shake-up workload. One role will oversee the development of new schools in the region and the other will supervise repair work to earthquake-hit buildings. Both are two-year contracts based in Christchurch.
The project manager for new schools will work with the Auckland-based national team that oversees new schools and major redevelopment of existing schools. Under the proposed shake-up, schools will be built in the growing towns of Pegasus and Rolleston. Seven primary schools will be moved to new locations and Halswell School will be rebuilt.
"This position is to cover a range of projects in the South Island, including Christchurch, and will be working as part of the earthquake recovery team," the ministry said.
The other role, a case manager for the Schools Reconstruction Project, will deal with school repairs. The ministry's rationale documents for the schools proposed to close or merge show they will need an estimated $132.8 million of repair work during the next 10 years to fix quake damage, strengthen buildings and repair weather-tightness issues.
"The case manager positions are responsible for overseeing a group of remediation projects arising from the earthquakes and are part of the recovery process," the ministry said.
Ministry support for payroll issues
The Ministry of Education and its payroll provider Talent2 will be providing further assistance to schools to help address issues with the new payroll system.
The Secretary for Education, Lesley Longstone, says the ministry is listening carefully to all feedback about the Novopay system and is making extra help available to schools.
"We have had teams out working in schools in recent weeks to provide payroll administrators with on-site support. This has had such a good response from schools we're looking to increase the numbers."
Novopay training road shows were helping and the ministry was also aware that schools may have additional audit costs related to the introduction of the new system. "We will provide support as appropriate," she said.
"The ministry is continuing to meet daily with the payroll provider Talent2. I can assure schools that we have made our expectations very clear and I have demanded an increase in Talent2's staffing.
"I understand the frustration being expressed by some principals and their staff. I want to thank them for all the work they have been doing and ask them to continue working with us to make sure we get this right."
Views sought on modern Christchurch schools
A leaflet describing possibilities for modern 21st Century schools in greater Christchurch has been delivered to 160,000 local households.
Deputy secretary Regional Operations, Katrina Casey, said a large number of schools had been damaged and the Ministry of Education wanted teachers, parents and students to think imaginatively about what the new schools and facilities might look and feel like. Ms Casey said people movement, land changes and building damage as a result of the earthquakes were the catalysts for change.
"A lot of schools across greater Christchurch were built in the 1950s. We now have the chance to think in new ways and provide greater Christchurch with the best new facilities found anywhere.
"Today's learners are dynamic multi-taskers who are technology literate and we want their schools to reflect that. Schools will always be an integral part of the community, so we want everyone to stay involved in the education renewal process," Ms Casey said.