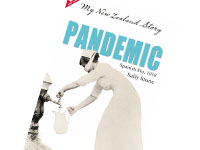 My NZ Story: Pandemic
Sally Stone
Scholastic
It is 1918, and World War I is finally drawing to an end. In the small Canterbury settlement of Southill Downs, 11-year-old Freda Rose looks forward to the return of her brother, Bobby, from the Western Front. But Freda doesn't know that something else is on its way to New Zealand from battle-scarred Europe: a disease that will soon prove more devastating than any war.
A long-awaited new title in the popular historical series, this story is set during the Spanish Flu pandemic of 1918.
(For ages 10+ years)
Llama Drama
Yvonne Morrison
& Neroli Williams
Scholastic
Pam was an easily bored sort of llama, who took every chance to stir up some drama.
The other llamas all roll their eyes at Pamela's antics until, one day, she is spotted as a potential star. Life will never be the same for Pamela now!
A hilarious brand-new picture book from the author of such favourites as A Kiwi Night Before Christmas, Down in the Forest and Mind Your Gramma.
Operation Bunny
Sally Gardner & David Roberts
Hachette
RRP $16.99
A brand-new quirky series about a fairy detective agency brimming with mystery and magic.
Emily Vole makes headline news in the first weeks of her life, when she is found in an abandoned hatbox in Stansted Airport
Then, only a few years later, her neighbour Mrs String dies leaving Emily a mysterious inheritance: an old shop, a small bunch of golden keys and a cat called Fidget. It's the beginning of an adventure of a lifetime as the old Fairy Detective Agency comes back to life.
It is up to Emily to reopen the shop, and recall the fairies to duty. Together they must embark on their first mystey and do battle with their great fairy-snatching enemy, Harpella.
Far Rockaway
Charlie Fletcher
Hachette
RRP$19.99
From the author of the 'Stoneheart' trilogy comes a compelling new adventure for anyone who believes that every book is magic. Cat is knocked down by a speeding fire truck in Central Manhattan. She wakes in a world made from all the books her grandfather used to read to her, peopled by some of the most memorable heroes of classic adventure fiction, bought vividly to life. Cat must earn their friendship and help as she begins an odyssey and epic quest to findthe mythic Castle at the World's End, the castle of Far Rockaway.If you enjoy reading good books; swashbuckling adventures with sword fights andpirates – then Far Rockaway is the book for you. Join Cat as she embarks on the journey of a lifetime.
The Miracle at Gulls' Bay and Six More Super Stories
Illustrated by Keven Mealamu
$15
Written by children, for children.
The compilation of short stories has been published by real estate company Barfoot & Thompson to culminate their fifth annual Young Authors Challenge. The seven winning tales were chosen out of more than 340 entries authored by children aged five to 12 years from across primary and intermediate schools in Auckland and Northland.
Supreme winner The Miracle at Gulls' Bay by 10-year-old Holly Fisher from Remuera Primary, which tells a story about recycling from the perspective of a seagull, features on the cover of the book. It is accompanied by six other tales, including one taken from a young girls' real-life experience within Starship Children's Hospital and the Northern Health School at Ronald McDonald House, My Lucky Day.
Not only will every cent raised from the sale of each book go directly to the Starship Foundation, these stories are sure to help transport young patients' minds away from their hospital beds and into imaginative worlds.
Copies are available from www.barfoot.co.nz/storybook.