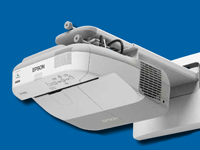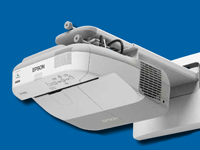 Digital technology is ever-changing. Improvements are made to hardware and new apps – programmes that help the latest gadgets work better, faster and more interactively – are being introduced on an almost daily basis.
The same can be said for technology used within the classroom. The interactive whiteboards, iPads, iPods and digital cameras in common use today are a far cry from the chalk and duster classrooms of 30 years ago.
In particular, classroom projectors have come a long way from the old-style overhead projector that was sat on an empty desk close to the screen or wall the image was to be projected on, required manual operation of the mirror arm and projected information from transparencies the teacher had already written on.
Today's projectors are interactive, allow collaborative working and provide options for teachers to share lesson plans with their peers electronically.
The main role of today's interactive projector is to make learning fun and more meaningful for the students, says Mike Conza, business manager projectors at Epson. "They give more engaged learning and turn the traditional, kids sitting at their desks answering questions style of teaching, around and gets the kids up to the front of the classroom. They allow students to become more involved."
Students are able to become more involved in the lesson through the use of educational software that can be displayed on the board through the projector. Different software programmes enhance different subjects, and can, for example, allow students to work through maths problems directly on the projector, or change words around to form sentences in English lessons.
Modern projectors let teachers take what is on the smaller computer screen and enlarge it so the whole class can see. Multimedia programmes and YouTube clips, for example, can be shown to the whole class through mounting the projector on the wall or can provide space for collaborative working amongst small groups of students by being used on a table.
Epson's own projectors have a range of new features that also provide that interactivity. The company has recently released two new projectors that have dual pens, allowing two students to amend the same document simultaneously. Notations made with these pens are able to be displayed almost immediately which makes writing on images easier and more intuitive. These latest models also offer the ability of a PC-Free electronic whiteboard.
For teachers, modern interactive projectors allow them to prepare their lesson plans and supporting documentation and send it straight to the projector. "There is no need to recreate the lesson or write up notes every time that lesson is taught, it can simply be saved and used again," says Conza. "If the lesson plan is in PowerPoint, for example, it can be saved as a working document and notes can be made over it and saved, or the students can make changes to it."
Additional software available with modern projectors also allows the creation of a database of lessons so teachers can see lessons that their peers have created. "It opens a shared learning space for teachers as well," he says.
The Ministry of Education has also seen the benefit of using digital projectors in classrooms. As part of its TELA – Laptops for Teachers Project, the Ministry also set up a similar scheme for projectors called Projectors in Classrooms after research from Waikato University found that the use of "data projectors increase the laptops' effectiveness as a teaching tool". Although currently suspended, a decision regarding the future of the Projectors in Classrooms scheme is expected in term two 2012.
So what does the future hold for the use of interactive projectors in New Zealand schools?
"Teaching is becoming increasingly electronic," says Conza. "We are now seeing cases of students laptops and computers directly linking with the projector to put the students own work on the board.
"Interactive devices are in use in approximately 75 per cent of classrooms in the UK but only around 15 to 20 per cent of New Zealand schools currently use the technology. Yet with iPads and tablets becoming compulsory tools in classrooms around the country, the interactive projector market will only get stronger," he says.