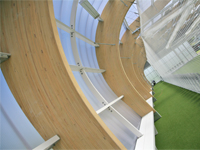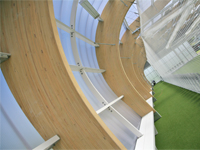 No longer at the mercy of New Zealand's fickle weather, sports teams at Wellington's Scots College have been enjoying the comfort and protection of a superb new covered sports centre which was opened in November.
The purpose-built indoor sports centre was designed by award-winning Athfield Architects and utilises the very latest in building materials, specialist sports surfaces and technology. College headmaster, Graeme Yule, called the impressive facility "groundbreaking" and "very exciting for both the college and Wellington's wider sporting community."
The structure is made of rib-like laminated curved timber beams covered by translucent polycarbonate sheeting, designed to make the building feel very light and airy. It includes four sprung practice lanes, retractable nets and software that monitors bowling speed and form.
"While the centre was built primarily for cricket practice, with the push of a button the cricket nets retract into the ceiling to make way for the 800m2 artificial playing turf which can be used for a whole variety of sports.
The facility is the only one of its kind at any school in the country and while it might seem to some to be private school profligacy. Graeme Yule maintains that it was a practical and cost-effective solution to a problem that had to be fixed anyway and may well be a forerunner for many other schools.
"Our outdoors cricket wicket was in dire need of maintenance and was becoming quite dangerous. The drainage needed upgrading and to replace the cricket nets was going to cost about $1 million. I wanted something that we could get more use from than just six weeks or so at the start and end of the year for cricket and could also be used for other activities. I didn't want to spend a million dollars just replacing like with like."
Another factor in the decision was that the school role had topped 800 and was growing. Extra facilities were needed. Graeme Yule explained the situation to architect Nick Strachan of Athfield Architects and suggested some sort of cover for the practice cricket area. Various options were considered before the solution emerged. "We came up with a quite revolutionary design and material," said Mr Yule.
But first the board had to be persuaded that the proposal had merit and college could find the $3.2 million needed. "I had to do a lot of talking to the board around the need for the facility and the cost."
A capital fundraising campaign was launched and the college could also draw on capital reserves from a development levy on the growing student roll. After two and a half years of planning, the project was underway. Construction took about eight months. Now this traditional looking school with its somewhat historic brick appearance has a building with a futuristic look at its frontage.
"In most indoor facilities you need artificial lighting. In this one, it's as bright indoors as it is out, and when you're practising, that makes a huge amount of difference. It was quite ground breaking really and also gave me another large recreational space that I could use for broader college sport," Mr Yule said.
Architect Jeremy Perrott from Athfield Architects says the material has good spanning characteristics. "As it's a twinwall polycarbonate system, the amount of structure required to support it can be minimised. The building is designed as a lightweight 'shelter' – not a fully air-sealed envelope. This enabled a lighter weight, more cost effective timber structural frame to be used."
Mr Perrott sees great potential for these type of structures for the education sector, but he warns that there is a large range of suppliers of such translucent products, so careful research should be done from the start.
Asked what difference the facility had made in the 2012 school year, Graeme Yule is enthusiastic. "Oh, look, it's been huge. It's just a fantastic facility. The fact that the video analysis gear and other equipment gives the kids the ability to analyse what they're doing and learn from it, is wonderful."
"It's certainly increased the number of students involved in cricket but it's also been a boon for our PE department. We're no longer dependent on the vagaries of the weather."
The indoor centre and two new grass match wickets outside could lead to a closer relationship with Wellington Cricket, including the hosting of some tournaments. The sports centre will also be available for use by various community groups.
"It's important that people in the wider community feel welcome as this is their sports facility as much as it is ours," said Mr Yule. "My vision is for it to become a bustling centre of activity – a place where young and old come to be active, to meet, participate and compete – a building is only as valuable and vital as it is well-used."
"I see this building as a symbol of what's possible when you really set your mind to something. I am incredibly proud of the way our community has pulled together to make it happen," he said.
Completion of the sports centre was the highlight of a stunning year for the college. Its 2011 campus development plan also included a three-storey Creative and Performing Arts Centre, which opened this year.
Scots College is an Independent Presbyterian Day and Boarding Boys' School; Years 1-13. It is an IB (International Baccalaureate) World School, offering both the NCEA and the IB qualifications.
Covered Sports Centre – Building Details:
• 1350m2 of Polycarbonate Sheeting
• 800m2 of Tiger Turf
• 300 linear metres of Glulam timber beam used (1170 linear metres of timber purlins)
• Ceiling Height = 5m in the middle (working ceiling height of 4.5m)
• Floor Space = 800m2 of playing surface and 200m2 of amenity space
• Approx 273 days (or 195 working days) to build