Profiles
Best for boys at Tauranga Boys College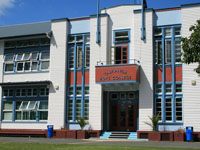 Blessed with a superb location in the warm climate of the Bay of Plenty, and wonderful beaches close by, Tauranga Boys' College was always going to have a great deal going for it.
Add excellent facilities and a culture dedicated to meeting the educational, social and developmental needs of boys on their journey from boyhood to manhood, and it is no wonder the college has such an excellent reputation scholastically, culturally and on the sporting field.
"We have a commitment to continuous improvement as we challenge our boys to strive for excellence in academic, sporting and cultural activities in a male context," says college principal, Robert Mangan. "Boys are challenged to enquire and to reflect on their actions, and to be motivated to achieve their potential. We provide a supportive environment with strong leadership, clear direction and high expectations. Opportunities to experience success and to realise their potential are provided for all our boys, both inside and outside the classroom.
Tauranga Boys' College is a state secondary school for boys, located on the edge of the downtown area of Tauranga. The school was founded in 1958. Since then it has achieved a great deal of academic success, as well as on the sports field and other area of endeavour. Mr Mangan is quick to attribute this to his teaching staff.
"Our teachers understand boys' learning needs and deliver a teaching programme that maximises the success of all boys. A quality professional learning programme fosters our teachers' expertise. Our curriculum is designed to meet the needs of all our boys, providing pathways for them to achieve academic success and become lifelong learners."
He says a structured, orderly and caring environment provides security and certainty for the boys as they progress through their adolescent years. "They will develop into young men who have respect for themselves and others, value excellence and loyalty, and have a strong sense of pride and belonging to their college."
History and tradition
History, tradition and rituals play an important role in enriching a boy's education at Tauranga Boy's College. On their very first day, year nine boys are challenged by the college haka – Maunganui. "This sets the tone for other significant milestones, as each young boy travels the road to manhood," Mr Mangan said. "The challenge culminates in the haka being laid down to our year 13 boys as they exit the school for the final time.
"This college is proud to celebrate success. We acknowledge the importance of overcoming challenges, setting goals and working hard in the pursuit of excellence. The characteristics of 'good men' are declared and upheld. Respect, honesty, integrity and resilience are a few of the characteristics that guide the boys."
These values are demonstrated in the college crest – Myron's Discobolus – chosen because the figure of the discus thrower embodies Greek beliefs that life should be studied closely and reproduced exactly: complete with grace, proportion, poise, discipline and exactitude. From this central concept comes the college motto: Pergo et perago – 'I take up the work and I carry it through.'
Learning for the 21st Century
While a wide range of pursuits and activities is available, learning for the modern age is central to the college, which strives to create a strong academic purpose for young men. "We're committed to the values and traditions of academic achievement at the highest level," Mr Mangan said. "Success is championed. Our broad curriculum choice enhances individual achievement and promotes the skills and knowledge that young men will need in the 21st Century."
That attitude has paid off. Students regularly lead the region in scholastic achievement, particularly in the National Scholarship Examinations.
But the school also prides itself on its many sporting achievements in a wide range of individual and team sports. A number of national titles and New Zealand representative awards have been awarded to pupils, both past and present.
Artistic commitment
And while boys and sports are usually closely aligned, the college is committed to providing a wide range of artistic activities, groups and opportunities for students of all interests, abilities and cultures. "Fun, participation, education and achievement are acknowledged and promoted as an important part of a young man's education for life and will hopefully encourage a lifelong interest in the arts," said Mr Mangan. A major production is performed annually in conjunction with Tauranga Girls' College.
Boys who play musical instrument are encouraged to audition for the college's various ensembles. Students are encouraged to learn a musical instrument and tutors are employed to hone their skills.
Sense of belonging
Success in these fields does not happen by accident. Boys join a college that provides a high level of support. "We want all our boys to feel safe, secure and connected," Mr Mangan said. "We do everything we can to ensure that the academic, co-curricular and social aspects of school life are as rewarding as possible. We recognise and respect each boy's uniqueness, while growing his sense of place, sense of belonging and identity within the college and the wider community."
To foster that sense of belonging or turangawaewae, all boys belong to one of six houses, named after great New Zealand men, and are involved in sporting, cultural, service and academic inter-house competitions.
As well as local boys, the college hosts students from a wide range of countries, offering many co-curricular opportunities and ways to immerse themselves in 'Kiwi culture' while living in a highly desirable destination.