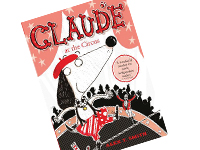 Claude at the Circus
Alex T. Smith
Hachette
RRP $14.99
Come one, come all for this extraordinary fiction debut for both Alex T. Smith and his unforgettable hero, Claude.
| | |
| --- | --- |
| | |
| | |
| | |
A walk in the park leads to a walk on a tightrope when Claude joins a circus, throws custard pies, and becomes the star of the show! Funny and exciting stories from a bright, young newcomer. After briefly considering careers in space travel, cookey and being a rabbit, Alex T. Smith finally decided to become an illustrator and won second place in the Macmillan Prize for Children's Illustration.
The Story of Bo and the circus that wasn't
Scholastic
RRP $19.50
This collaborative story book was created by Telecom customers in association with award winning author Kyle Mewburn and illustrator Donovan Bixley, who provided illustrations every step of the way – before anybody even knew how the story was going to develop!
Bo dreams of being an acrobat. There's just one problem. He's afraid of heights. Oh, and he's a sheep … and he lives in a land where circuses are forbidden … Will he ever be able to realise his dream?
Rainbow Magic: Olympia the Games Fairy
Daisy Meadows
Hachette
RRP $16.99
Olympia the Games Fairy will start kids off on a year of sporty fun! Kirsty and Rachel are on an exciting day out to watch a triathlon – a three-part race where the athletes have to swim, cycle and run. But when the competitors start swimming round in circles, it's clear that all is not well. Olympia, the Games Fairy, appears and explains that Jack Frost has stolen the three magical items which she needs to make sure the Fairyland Games, which are also on at the moment, run smoothly. Without them, both the human and fairyland games are doomed to chaos! Lots of fun free activities to download, competitions to enter and fairy fun for Rainbow Magic fans at www.rainbow-magic.com.au
The Prisoner
Robert Muchamore
Hodder Children's
RRP $19.99
The fifth adventure in the Hendersons Boys series.
June1943. Marc Kilgour, one of Henderson's best agents, is imprisoned in a brutal German labour camp in Frankfurt. Living on starvation rations, he fears that he'll be unable to survive the coming winter. A set of forged record cards could be his ticket to freedom, and with them and his three bunkmates, he plots a daring escape. But the plan goes horribly wrong, and the record cards that could be his ticket to freedom might just as easily become his death warrant. But if he can just find a way to escape, a vital mission awaits him in France . . .
12+ age group
The Red Poppy (with CD)
David Hill/Fifi Colston Scholastic
RRP $33.00
The powerful story of one man's fight in the trenches … and the little messenger dog who saved him.
Young soldier Jim McLeod waits in the trenches of World War I for the order to attack the enemy. With him are his friends, and Nipper, the messenger dog. When they charge across no-man's-land, Jim is shot … and finds himself face to face with an enemy soldier.
When Empire calls
Ken Catran
Scholastic
RRP $19.50
When Empire calls, men go to war … and families suffer.
It's early days in the Boer War and the small farming community of Huia is gripped by patriotic fervour. Men, young and old, are eager to join up and head overseas to fight the 'evil scoundrel folk in Africa who opposed the British Empire and had to be taught a lesson'.
When his two elder brothers join up, James is left to help his father run the family farm, as well as helping out in the local village store, for the irascible old 'Croaky Fred', a bad-tempered old codger who always speaks his mind – and he has nothing good to say about war in any form.
Turns out Fred has a secret …