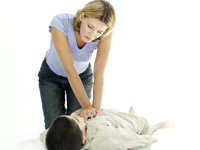 You left home in the morning, it's just an ordinary day.
You arrived at school, spent the day as you always do. Meetings, teaching, lunch, teaching, staff meeting and then, whew… home for dinner with your partner.
While eating a lovely dinner prepared by the kids who are now doing their homework, leaving you in peace to enjoy your meal, your partner suddenly stops talking while in the middle of telling you about their exciting day. You look at them to see they are looking quite distressed and clutching their throat.
Slowly the cogs start turning, oh my word, he's choking! Suddenly you remember your DRSABCD's and the new choking technique you had learnt in your First Aid course last week.
Checking first to ask "are you choking", you then bend him over and hit them on the back between their shoulder blades five times…. no that didn't work … let's try the new chest thrusts.. Fisted hand in the middle of the chest and pull in to five times.
Yes that worked… you saved your partners life.
That is an example of what we hear when going to schools to run first aid courses. Teachers and staff attending a First Aid course and within the next couple of days having to put learning into practice.
Are your staff first aid trained and/or up to date with the changes for CPR and choking? Would they be able to respond to an emergency situation at school in the if a student has an accident classroom or while on duty?
First Aid is a life skill that is transferable into the home environment, out and about travelling or on EOTC activities.
As this teacher last week said "who would have thought she would ever have to use those skills especially at home on her husband. She saved his life and he's thankful for it and keeps telling everyone that she actually saved his life".
Are you prepared? Could you save a life?