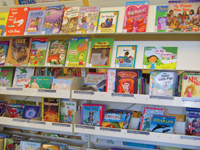 For generations, no place has been more important in a school than its library. It is in these quiet places that countless students have found the inspiration that changed their lives.
While that importance continues, the computer revolution means there is no doubt it is changing. There are different storage requirements and students can now access so much research information from their own home or school computers.
Yet, learning is about more than just seeking information and what better place than the library to retreat to and spend a quiet hour or so reading poetry or fiction when the rain is pouring down outside or the sun's relentless rays are making lunchtime recreation unpleasant or dangerous. As the School Library Journal put it in October 2009, in a quote by Valenza and Johnston:
"We hope that libraries will always exist as places for learners to find information, resources, services, and instruction. But formats, technologies, learning needs, and our schools are evolving. So are students themselves. Our entire information and communication landscapes have shifted – and this shift will only continue."
Those in charge of the library have a wealth of information to call on. The National Library of New Zealand's Services to Schools' website has sections on everything that is ever likely to be needed in establishing, remodelling or managing a school library.
Under the School Library Role, it states: "The school library provides a model for inquiry learning and building knowledge and confidence in seeking and processing information." It says the school library is pivotal to developing 21st century learners in the Post Industrial or Knowledge age.
Highly respected and prolific New Zealand's children's author, Joy Cowley reminisced: "A sanctuary, a mine of treasure, a house of maps to secret lives in secret worlds… the library became my other home."
Even in the age of the laptop and the Ipad, the importance of the library can hardly be disputed. But with the changing role of a modern library, its layout and design have never been more important, and the National Library Service's website stresses the need for good, modern design.
"School libraries with flexible, multi-functional spaces have the ability to respond to changes in curriculum, technology, student numbers and the community. Doing your research into current and future trends will be an important part of pre-planning. Remodelling or building a new school library creates opportunities to ensure that its design and facilities are innovative and sustainable and, most importantly, contribute to student achievement by being planned as a learning space.
The Library Service says remodelling or building a new school library requires a school-wide planning and review process, beginning with a shared understanding of the role and vision. The first steps in the planning process is to establish a planning team, ensuring members are well aware of what their roles entail.
That team should represent the staff, students and school community and includes a library adviser at key stages of the project.
"Having a common understanding of your library's role and purpose will help to determine its location, how best to allocate space and create an atmosphere that is welcoming and inviting, stimulates creativity and provides for social, cultural and intellectual activities," it says.
Those teams will find several New Zealand companies willing to help them with advice and products regarding the latest ideas in shelving. Among them is Wellington-based Dexion Commercial (NZ) Limited, which has been manufacturing since 1921. It specialises in the design, manufacture, supply and installation of shelving systems and commercial furniture with its Precision range.
Hydestor Manufacturing Ltd in Auckland's East Tamaki has achieved international success with its shelving systems. Account manager Chris Pooley says in today's libraries, the emphasis is on the management of best storage and display options.
"Traditionally, the main adult fiction and non-fiction collections are generally managed 'spine-out' within their alphabetical or Dewey system clarification. In contrast, with the children's and young adults (school-age population) collections, the aim is to have as much 'face-out' display as is practical, particularly for the; junior emerging readers, chapter books, picture books and graphic novels," he said.
These specialist shelves and browser bins tend to give greater options over a flat shelf in the lower profile and multiple depths they offer. They are also dividable, and often rear-tilted to allow for ease of browsing.
"The readership of these collections is heavily influenced by their book covers, to entice a reader to pick the book up and enjoy the story inside," Mr Pooley said.