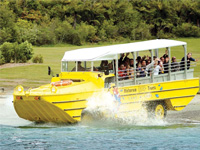 When it comes to finding a blend of interesting attractions to keep students occupied on a field trip, it is hard to go past Rotorua – for North Island schools anyway.
The thermal attractions such as Whakarewarewa and Waiotapu are well known, as are the trout pool and wildlife parks such as Paradise Valley and Rainbow and Fairy Springs, but Rotorua offers so much more.
There are excellent opportunities to experience Maori history and culture, including Mitai Maori Village, where students will see cultural performances and warriors paddling a waka, and enjoy an authentic hangi meal. The village and Arts and Crafts Institute at Whakarewarewa are other must-sees.
Inspiring walks are to be had through a forest full of huge redwoods, and there are float planes and a paddle boat cruise to explore Lake Rotorua. Pollution problems might make swimming in that lake a little undesirable, but not far away are Lake Rotoiti, the beautiful Blue and Green lakes and the secluded jewel that is Lake Okataina. Also within the vicinity is the Buried Village at Tarawera and the historical features it involves, including the fabled, lost Pink and White Terraces.
Often referrred to as "RotoVegas," Rotorua is a major lure for both New Zealanders and international tourists. While the associated nightlife might not have much application for students, it does help make the visit more interesting for staff and parents.
The fact that Rotorua is well set up for such tourists help make it attractive for school groups as well. The agricultural displays at the Agrodome and other venues, a gondola ride to the top of Mt Ngongataha and a luge ride down, white water rafting and thermal bathing are others in a vast array of entertainment possibilities. There are several locations for large banquets and other gatherings, the new Convention Centre in the Government Gardens being the major one. Accommodation ranges from back packer standard up to 5-star hotels.
A number of venues are aimed especially at schools. Lakes Ranch is a 120 acre property offering numerous activities, including an adrenaline raising 'swoop' or abseiling down a 20 metre site. There are tennis courts and horse treks available for all degrees of ability. Students can play team games on the full-sized rugby field or in a large riding arena in wet weather. There are three swimming pools, one of them thermally-heated. Students can try their hand at archery, slug guns or badminton, relax on a giant hammock, kayak on one of the lakes and explore the ranch while navigating the challenging orienteering course. With more than 200 beds and tenting and camper van sites, Lakes Ranch is able to cater for almost any group.
All Seasons Holiday Park is another attractive place to stay. It offers accommodation on three hectares of parkland, only eight minutes from town and close to Lake Rotorua. It is about two minutes walk from Hannah's Bay recreational area, which has a newly developed wildlife zone and a safe playground.
The park has a wide variety of self catering accommodation, including standard cabins popular with groups on a budget. A 50 bed lodge could be of particular interest to schools.
For school organisers wondering how to transport their charges around the different venues, Rotorua Duck Tours provides a unique solution. The company offers amphibious sightseeing tours of Rotorua and its lakes area, introducing passengers to Rotorua's rich history and spectacular scenery.
The fun takes place for each student aboard one of the company's World War Two military landing craft (known as Ducks), each in the charge of a 'Conducktor.' Among the ventures offered is a 90 minute scheduled Rotorua City & Lakes Tour or a 120 minute Tarawera & Lakes Tour. Both tours explore the most famous of Rotorua's lakes and its landmarks. The highlights include: informative commentary, 'splashdown' onto two or three lakes, geothermal activity, Maori culture, history of Rotorua and views of Mount Tarawera and a history of the authentic landing craft. Tours depart three times a day in summer and twice daily in winter. There are special deals for groups.
Schools are able to organise their visits through the Rotorua Education Network (REN), a first-of-its-kind tourism collective solely dedicated to education. The network was formed by four tourism partners in 1997 to provide quality out of classroom experiences for students nationwide. The group has now grown to 13 members; including 11 Rotorua based tourism businesses encompassing cultural, geothermal, natural environment, and adventure elements. All members are Qualmark rated and members of the Rotorua Sustainable Tourism Charter.