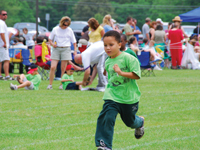 It is that time of the year when schools are likely to holding events outdoors, with sporting competitions high on the list,
but musical and other social occasions also popular. And while our weather is likely to have a trick or two up its sleeve, good planning can make a huge difference to the day's success or failure.
Cups, medals and other awards may well be needed for competitors, and measures must be taken to guard against the effects of excess sun exposure, which can eventually be lethal. The dangers of the cumulative effects of sunburn, which can lead to deadly melanoma, are now becoming well recognised. Consideration could be given to providing sunscreens or hats to those who turn up ill-prepared. A place to shelter from the weather is now regarded as essential.
When it comes to obtaining those awards for the winners, there are several companies only too willing to help. For instance, Spincast Manufacturing Ltd in Auckland's East Tamaki is a well established New Zealand, family owned company that has been manufacturing metal products for schools and other markets since 1995. These include: medals, pin badges, and apparel accessories such as tie bars and belt buckles.
"At Spincast, we offer full design capabilities for custom made items, such as school badges or medals," said sales manager Cameron Barnett. "Also, with our unique process, we can replicate an existing item or alter it as required."
Schools only need to contact Spincast to discuss their design requirements for sports events, prizegivings, corporate events and competitions. "We can design a medal specifically for your event or you can choose from one of our many already developed styles. Gold, silver, bronze and many other plated finishes are available, or add colour and resin for that dramatic effect," Mr Barnett said.
"From a simple concept we have the capabilities to take your ideas and turn them into a full rendered design and manufacture a product for you."
However, no matter how much planning and organization is put into an event, the unpredictable New Zealand weather is likely to play a part and could very well ruin the occasion.
Whether it is a blistering hot day that can burn everyone to a crisp, or one where wind and showers make it unpleasant for everyone but not bad enough to mean cancellation, having reasonable shelter for all concerned will be a major priority. Few schools will have adequate tents, marquees or sun shelters of their own, but they can be readily hired.
Several companies specialise in providing outdoor solutions in the form of portable shade and shelter for use in all aspects of outdoor leisure, events and activity for all seasons. They offer a wide variety of products ranging from massive marquees to very simple sun shades – some of them even inflatable.
One such company is Shedline which says its Instant Marquee frames allows them to collapse down to a very compact cluster which two people can deploy in about two minutes. Clients have the immediate advantage of the largest selection of Instant Marquees (a wide choice of colours, sizes, frame types and accessories), readily available ex-stock and delivered freight-free within New Zealand.
Executives say their marquees have an ultra-violet protection factor (UPF) rating of 50+ and that Cancer Societies and SunSmart organisations around the country use Shedline Instant Marquees to help promote their sun-awareness programmes. "Being so simple to erect and collapse, they can be shifted to provide shade wherever it is needed throughout the day," a company spokesman said.