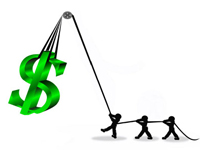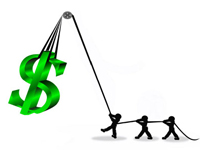 With another school year underway, thoughts will already be turning to how to raise enough funds to make it through, particularly with the demands these days for laptops, ipads and other examples of technical gadgetry
becoming regarded as essential. Some will see it as an irksome and time consuming chore; others will look at the challenge with anticipation and enjoy the camaraderie it can bring.
There are many types of fundraising and most schools will have their favourites. For those searching for new ideas, the Parent Teachers Association website provides a long list of possibilities.
One idea becoming much more common is the use of celebrities to raise the profile of the event, not just giving a talk but becoming identified with the whole wellbeing of the school. Having the help of a prominent name in the sports or other field is certainly a great help, but unfortunately there are only so many such people prepared to devote their time to assisting a school, particularly when they will also be in demand for much better known national causes. Most schools will have to get by on their own devices. And the attitudes of those involved will be crucial.
There is general agreement that motivating the students is a key to success. They will work harder if they understand the purpose and if it is for something they want.
Setting a clear goal will help. Let the students know how much money is needed to achieve the fundraiser's purpose. Offering prizes and incentives can be very motivating.
A by-product of fundraising is the chance to teach the students new skills. Teach students how to communicate with others and how to encourage people to buy the items you sell. Allow the students to take an active role and, as far as possible, let them lead. That will help them to take more pride in the eventual success.
The managing director of Glowsticks Ltd, Vincent Fletcher, says when planning a fundraiser, it can be all too easy to overlook the most important factor affecting profitability –'Who will we use to sell the products?'
"Attitude is the most important factor in selling products at any event. Even if your product is fantastic, turning your event-goers into customers requires you to have a fantastic attitude when you're selling. If you're enjoying the event – wearing or using the product yourself – and the others in your team are equally ecstatic, it's a lot more conducive to great sales," he said.
"Pulling an all-nighter the day before an event will make you look and feel tired, and this will have a serious negative impact on your sales. To avoid this, get on top of the organising early, make the important decisions before the last minute, and remember to order your products with time to spare. Couriers can be delayed.
"When that big day comes," says Mr Fletcher, "enjoy yourself – you've already done all the hard work. A happy smile, a friendly gesture, and the odd give-away will go a long way. If you need helpers, ask the most bubbly, energetic, fun-loving people you know to give you a hand – it's all about attitude."