Education
Broadband rollout ushers in e-learning revolution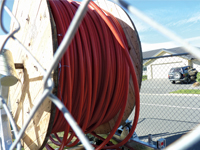 New Zealand's methods of education are in for huge changes over the next few years as the Government rolls out ultra-fast broadband across the country.
A statement in October by then Minister of Education, Anne Tolley and former Communications and IT minister Steven Joyce, said the government roll out of ultra-fast broadband access was progressing well and will see nearly 100,000 students at 221 urban schools around the country connected by July 2012.
Howard Baldwin, the manager of the e-learning innovation unit for the Ministry of Education, says large sums are already being invested in e-learning developments and the vast majority of schools are showing considerable interest.
In giving a brief overview of the situation to the ULearn conference in October, he said the ministry has a good deal of information going out to schools on the subject.
"We want to support schools as they make the move to ultra-fast broadband over the next few years, connecting up 97 per cent of schools and 99.7 per cent of students to fibre optic connectivity. We're continuing to provide hardware, software and money around e-learning capability, resourcing schools to make the most of the digital environment that is becoming even more ubiquitous in young people's lives, and one that schools need to embrace more fully if we are going to support our students moving into the future."
The Ministry of Education is investing $11.2 million annually into its e-learning capability programme, Mr Baldwin said. "The programme has been going for a long period of time and more than 65 per cent of schools have taken part in that programme and seek benefits from it."
He explained that the programme was being transformed into a regional model. The clusters involved so far would complete their programmes of work but no new clusters would be engaged. "Instead, we're investing in a capability programme of regional support that will be available across the country by the end of 2013. We're doing that to time in with the introduction of fibre-connectivity around New Zealand."
"We've also invested in a couple of innovations we think schools will really appreciate. First, is the Enabling e-learning website. It's a hub, bringing together a whole lot of resources around ICT learning in one place on the TKI framework. It's focusing on areas around leadership, around teaching, around professional learning, around our initiatives and around new technologies."
He said the Enabling e-learning website was receiving a large number of hits through the TKI environment.
"The second innovation is the planning framework which we have under development. We also have our virtual professional learning and development programme underway. You can find further details on TKI about that. And we're continuing to support the digi-advisers and also work with other schools around that range of digital resources."
"To support Enabling e-learning, we have a series of communities available. No matter whether you're interested in our virtual learning network (VALN), or in several other communities, or whether you want to use Facebook or Twitter, there's a space for you to take part in Enabling e-learning.
"The other thing that I think schools are going to find very valuable is the development of the early reading planning framework. We now have that out for consultation – the URL is there to download the framework. Again, it is within that TKI environment, and it's providing a roadmap for the schools to help them build capacity around using ICT in e-learning as they chart their way into the future. We welcome your feedback on that."
The work was involving an expert panel of international professionals, drawing on extensive work that had been done around the world as to what made e-learning effective in developing better outcomes for young people. He reassured the audience that the ministry still had a commitment to Netsafe and would continue to partner with it to make sure the web is a safe place for young people and their families.
Howard Baldwin has a strong background in teaching and school leadership and was involved in the earliest ICT and e-learning development in the lower South Island, pioneering many innovations there in the use of distance and digital technologies of learning. He worked with schools, leaders, facilitators and teachers across Otago and helped in bringing those innovations to the rest of the country through his Ministry of Education team.