News
Students the heroes in burger competition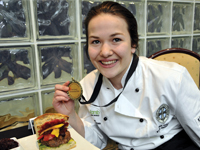 Contestants in the 2011 Beef + Lamb New Zealand secondary school burger competition
grand final held in October were praised by the judges for their exceptionally high standards.
The competition, run by Beef + Lamb New Zealand, encourages students to turn a base product of beef or lamb into an award-winning burger, taking into account nutritional value, degree of cooking, flavour harmony and presentation.
Winner of the junior section, Jessica Clayton from Kerikeri High School, won $500 for herself and $1000 for her school with her prime New Zealand beef and mushroom burger; she also took home a chef's kit valued at $350.
"Jessica presented the whole package and the beef had an amazing flavour which really enhanced the burger," 2010 Commonwealth gold medalist and competition judge, Alison Shanks said.
Kate McDonald from St Hilda's Collegiate School in Dunedin, the winner of the senior section, produced a lamb burger with mint aioli, beetroot relish, and a side of kumara fries and horopito salt. Kate won $750 for herself plus $1000 for her school and a chef's kit.
The junior heat was judged by Alison Shanks and the senior heat was judged by teenage cook, Claire Gourley. Also judging were Brian Wallace and Henry Spence, chef tutors at the Manukau Institute of Technology.
Wallace said the students should be extremely proud of their achievements in this competition as they all managed to showcase beef and lamb products beautifully.
"The criteria calls for beef and lamb to stand out as the hero of the dish and each student achieved this. However, I think the real heroes of the day are the students."
The competition was held at Manukau Institute of Technology, Catering and Hospitality School, in Auckland.
Full results are as follows:
Juniors
First place: Jessica Clayton, Kerikeri High School
Second place: Trisha Castillo, Wellington High School
Third place: Matt Dickie, Akaroa Area School, Canterbury
Seniors
First place: Kate McDonald, St. Hilda's Collegiate School, Dunedin
Second place: Aygnin Ing, Manurewa High School, Auckland
Third place: Jenny Carrick, Palmerston North Girls' High School.