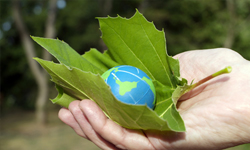 Environmental awareness is a hot topic these days and schools around the country are getting in on the act.
Almost 25 per cent of New Zealand schools are involved in the Enviroschools programme, edible gardens are springing up at schools across the country, and students are being encouraged to reduce waste and reuse or recycle from what is left over.
Now school stationery shops that want to help the environment can also help keep New Zealand clean and green by choosing from ranges of environmentally-friendly stationery products.
Pens can now be made from old plastic CD cases and car headlights, pencils can be made from recycled paper, ringbinders are made from recycled cardboard and reams of paper for the school office are made from sugar cane waste products.
Croxley's range of exercise books, for example, use recycled pulp, and inks which are either water or vegetable oil based and is the first range of school books to meet tough Environmental Choice New Zealand criteria – one of the world's strongest ecolabels.
Croxley managing director Joe Naus says seeing Environmental Choice's tick on the company's books is a proud milestone.
"Warwick school exercise books have become a Kiwi favourite since the first ones appeared in classrooms in 1956. Now, they [parents and teachers] can also be assured the books in children's school bags are kind to our environment," he says.
"Children are becoming very environmentally conscious as well. This is great, because the school kids of today will inherit the earth we leave them."
Environmental Choice is only awarded to products which comply with robust, published environmental specifications, taking into account the products whole life cycle. The label is owned by the New Zealand government and independently administered by the New Zealand Ecolabelling Trust, and its specification for paper has been placed in the world's top three best practice standards.
Naus says the standards set by Environmental Choice and the transparency of the manufacturing process available to the consumer was especially important to the company, particularly because a recent New Zealand Business Council for Sustainable Development (NZBCSD) survey revealed that 54 per cent of consumers demand eco-friendly products.
To mark the Environmental Choice milestone, Croxley has redesigned its scholastic books, including a picture of Croxley's environmental mascot Warwick the Worm, and a message to children about helping the environment.
Robin Taylor, general manager of Environmental Choice, says the assessment looks at the processes employed in making pages and covers of exercise books, the coatings and pigments used, and the source of fibre.
"For schools, the use of Environmental Choice-approved stationery provides a ready starting point for studying the curriculum issues relating to waste and energy management, with a practical example of the exercise books right in front of them," he says.
As well as Croxley's range of environmentally-friendly exercise books, stationery shops can now stock ranges of highlighters, whiteboard markers and even correction tape that are made with eco-friendly materials.
The humble pen, too, is getting an eco-friendly makeover. The old saying "one man's waste is another man's treasure" is being taken literally by pen manufacturers Pilot with their new B2P – or Bottle to Pen – range.
Made from 89 per cent recycled plastic bottles, the refillable gel ink pen is part of BeGreen, a full earth-friendly range of writing instruments.
Designed to look like the translucent plastic bottles they are made from, the pens prove that everyday waste products can be diverted from landfill and given a second life.
Individual stationery suppliers also have eco-friendly ranges that schools can take advantage of to stock their stationery shops and cupboards.
School Supplies, part of the OfficeMax brand, has rolled out an EcoMax range of writing instruments, paper and general stationery, while New Zealand Office Supplies also supplies a large range of eco-friendly materials.
With the range of choice available New Zealand schools have no shortage of choice in eco-friendly stationery.