News
Site sharing proves to be a good experience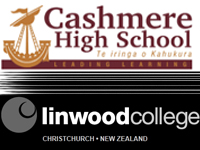 On February 22 this year Christchurch was subjected to a massive quake that shook the lives of all those involved.
I'm sure at first a five-week holiday sounded amazing to all the students around Christchurch, but soon enough we all started to realise the implications this would have for our education, especially those of us at Linwood College.
When the emails and text messages began circulating that our school would not be re-opening for a term, even more panic struck. As Year 13 students with NCEA level three assessments soon to begin, my friends and I were especially nervous.
It wasn't long before rumours started fluttering around that we would be opening up on the Cashmere High School site, and sure enough two weeks later we were on buses getting ready to start trying to catch up with our education at Cashmere High School.
Some of the main concerns I had were that classes were being cut by 15 minutes a period, which meant we would be missing several hours of classes for every month we were at Cashmere. On top of this, the idea of already being over a month behind the rest of the country was stressing me out and I knew we would have to get used to being in an all-new school and taking on all-new roles. When we arrived, things were surprisingly similar to Linwood.
In fact, all of the classrooms were very similar to our Linwood classrooms and the teachers were all the same; we even still had the same timetables.
"It's just like being at our own school but at a different location," Poppy Wallace-Bell, Year 11 said. One of the first things the Year 13s of Linwood College had to do was help the junior school settle in to routines and learn their way around – a little hard considering we didn't know ourselves. So far, the teachers have done an amazing job with catching us up on all of our classes and they have gone to the extra effort of setting up out-of-school tutorials at rooms like the temporary Linwood library. This has been so helpful and has relieved some of the stress myself and other NCEA students have been feeling about the future exams. As well as the school work staying the same, we are still able to continue some out-of-school activities like sports and house events. I think this is really important because, as all the teachers kept saying when we arrived, school isn't just about classes, it's about making friends through social activities, playing sports and having fun. Linwood has still managed to preserve this outlook despite the big shake. We are returning to the Linwood site in Term 3, but all in all I think I will partially miss Cashmere.
As wonderful as it will be to return to our 'home school', Cashmere has been a really good experience, and I think the Linwood college staff and the co-operation of the students has made the transition almost seamless.