News
New Zealand team brings home gold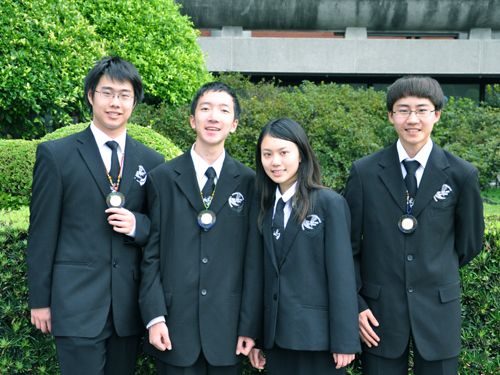 The New Zealand secondary school team of Benjamin Bai, Richard Chou, Vicky Tai and Jack Zhou recently returned home from Taiwan,
bringing with them a hat-trick of medals won at the prestigious 22nd International Biology Olympiad. The students all attend schools in Auckland. Vicky Tai attends St Cuthberts College, Epsom, Richard Chou and Benjamin Bai attend Macleans College, Bucklands Beach and Jack Zhou attends Auckland International College.
The competition pits the top four young biologists from 59 countries against each other in an intense round of practical assessments and theory examinations. Jack Zhou won a gold medal, New Zealand's first, and is now ranked 21st in the world. This is New Zealand's highest-ever world ranking at the Biology Olympiad. Benjamin Bai won a silver medal and Richard Chou a bronze medal.
The students have worked hard over the last year and the medals are seen as an outstanding achievement and a fitting reward for their efforts.
Team leader Dr Angela Sharples says, "We should all be proud of the achievement of this New Zealand team. They have proved themselves to be amongst the world's best."
The students were supported to attend the Biology Olympiad by the Talented Student Travel Award which is funded by the Ministry of Science & Innovation and administered by the Royal Society of New Zealand.