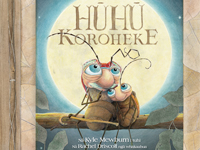 Three books by leading New Zealand writers and illustrators have been chosen for inclusion
in the 2012 Honour List published by the International Board on Books for Young People (IBBY).
They are, for writing, The Travelling Restaurant by Wellington author Barbara Else, and for illustration, The Moon & Farmer McPhee illustrated by Dunedin artist David Elliot, with text by Margaret Mahy.
For translation, the selected book is Hu-Hu Koroheke, the translation into te reo Maori by the late Dame Katerina Te Heikoko Mataira of the award-winning picture book Old Hu-Hu by Kyle Mewburn, illustrated by Rachel Driscoll.
The IBBY Honour List comprises a biennial publication and travelling exhibition showcasing the outstanding books of more than 70 member countries.
The Travelling Restaurant (Gecko Press), is an exuberant seafaring fantasy, the first children's novel by established author Barbara Else for more than 10 years.
Well-known as an adult novelist, literary agent and judge, she is also the editor of a highly successful series of children's anthologies.
The Moon & Farmer McPhee (Random House) won both the Supreme and Picture Book awards at the 2011 New Zealand Post Children's Book awards. The story of a farmer whose animals keep him awake at night was illustrated by David Elliot, an award-winning illustrator whose work has featured in a wide range of children's books for both New Zealand and America.
The text was written by Christchurch author Margaret Mahy, winner of the 2006 Hans Christian Andersen Medal and numerous other international and New Zealand awards during her 40-year writing career.
Hu-Hu Koroheke (Scholastic), a moving story on age and loss, was the Supreme and Picture Book award-winner at the 2010 New Zealand Post Children's Book awards.
Its translation was one of the last books of the late Dame Katerina Te Heikoko Mataira, internationally acclaimed for her lifelong work promoting te reo, as a translator, writer and educator.
The Honour Books, chosen by the Storylines Trust in its role as the New Zealand Section of IBBY, will feature at the IBBY World Congress being held in London in September 2012.